Know the Difference Between Dissertation and Thesis with This Simple Guide
The confusion between dissertation and thesis is there in the minds of many students. They use these terms interchangeably, which should be different. These two academic papers have different meanings and are distinct from each other. While there are some similarities, they do not overshadow their differences. After reading this blog, the doubts about the two terms will fade, and you will ask "How do write them?".
To answer this burning question, i.e., What is the difference between a dissertation and a thesis? dissertation help experts are here. If you want to find out all the details, this is the right place. There are a lot of differences and similarities they have which confuses students. All that will be cured in this blog. What are you waiting for? Let us start this roller-coaster ride to new shores.
What Is a Dissertation? | A Brief Intro
A dissertation is a written work that doctoral students must complete during or after their studies to receive their degree. Students must research a topic, develop new theories and present the latest ideas. It is the most comprehensive document they have ever worked on.
Since it is a research project completed as part of a Ph.D., it has a different goal. A dissertation usually allows students to present their findings in response to a question of their choosing. The project tests the student's independent research skills and assesses them for their final grade. Now let us move on to the thesis.

What Is a Thesis? | An Overview
Students pursuing a graduation or post-graduation course to earn their degree write a thesis. It reflects the student's comprehension of a particular subject. They study research that has been done on the subject and incorporates it into their work. Although lengthy, it is shorter than the dissertation.
The main argument of an academic paper, or thesis, expresses the author's viewpoint on a particular subject. In other words, if you are writing about a penalty, you state your viewpoint upfront and introduce the arguments you will present to defend your stance. The thesis is typically located at the end of the paper's introductory paragraph. Let's look closely at students' common confusion in these academic papers.
Dissertation and Thesis | What's the Confusion?
While it is evident to many, several students and professionals need clarification about dissertations and theses. It is simply because they are similar in many areas above the understanding of typical human nature. The confusion lies because many students use them interchangeably and think they are the same, but this habit needs to be corrected. There are some significant differences, such as their guidelines, format, degree they are assigned, etc.
After reading these things, it is general for you to have some questions. These must be about the method of writing it and how the dissertation and thesis structure is distinct. To know better about this concept, continue reading:
A Guide to Write a Dissertation and Thesis
After reading the section above, you may clearly understand "what is a dissertation and a thesis?" You can now look into how to draft a dissertation and thesis in the selection below.
How to Write a Dissertation?
For students, writing a dissertation is a challenging task. Since many of them need help writing the content, this section on how our experts compose a dissertation may be helpful for you. So let's get going!
Decide on a Research Topic First
Our experts clearly understand your research topic. It is okay if your professor has already given you a topic. If not, however, selecting the best topic becomes the priority.
Verify Every Documentation Needed
The second step is to ensure that all requirements have been met. Since a dissertation is lengthy and laborious, we check all the conditions to ensure everything is correct.
Conduct Some Thorough Research
Our experts now concentrate on the research component. To gather information on any subject that is only available to some students, they check through various sources, including books, journals, articles, blogs, etc.
Obtain a Simple Outline and Format
Our experts' next area of focus is a suitable outline and format. Yes, a correctly formatted and structured document makes a good impression on your professor and aids our writer in creating a perfect piece.
Pick the Writing Portion First
Now, the writing portion is all that our writers are focusing on. They adhere to a clear structure, complete the task on time, and include all the pertinent information they have gathered.
Check Your Work Before Delivering
Before delivering the dissertation to you, our writers proofread it as their final step in the writing process. It includes correcting errors, checking for plagiarism, and performing grammar and spelling checks.
These are the six easy steps that our experts use to draught a dissertation quickly. You can see from this section that each of these ideas is crucial and fundamental to getting good grades.
How to Write a Thesis?
Another difficult task for students, particularly those in college, is writing a thesis. It is a reason why students prefer thesis help for their academic tasks. Because this is their first lengthy document, they experience anxiety and stress as they write it. If you identify with this scenario, take advice from our experts on writing a thesis in the below section.
Topic Choice
The selection of a topic is the first step in writing a thesis. To impress your professor and earn you extra credit, our experts spend enough time brainstorming and selecting a compelling subject.
Requirements Comprehension
When they settle on a topic, they review all university requirements to ensure they adhere to them and don't miss any. Because making that mistake will demand them to rework on their entire document again.
Information Acquisition
The next task handled by our experts is information gathering. Our experts relyon books, newspapers, articles, journals, etc., for hours and days as they gather information.
Creating an Outline
Our experts then create the thesis outline. Every significant document section is included, and they ensure it is appropriately organised. A precise plan will aid in determining the best course of action.
Create the First Draught
The creation of a draught is the next step in this procedure. Our experts put a lot of effort into writing the document. This paper is written as though it will be the final version. While creating flawless content, they consider all specifications and instructions.
Edit and Proofread
Our experts perform editing and proofreading as their final step. They check the entire document to see if there are any remaining errors, then they edit, proofread, and finally, they submit the error-free paper.
These are the easy steps our experts use to create an effective thesis every time. Do you still need clarification about the format of thesis writing? Get professional advice from a thesis writer.
Dissertation vs Thesis | A Comparison
Now that you have a basic understanding of what a dissertation and thesis are, let's look at how they differ from one another: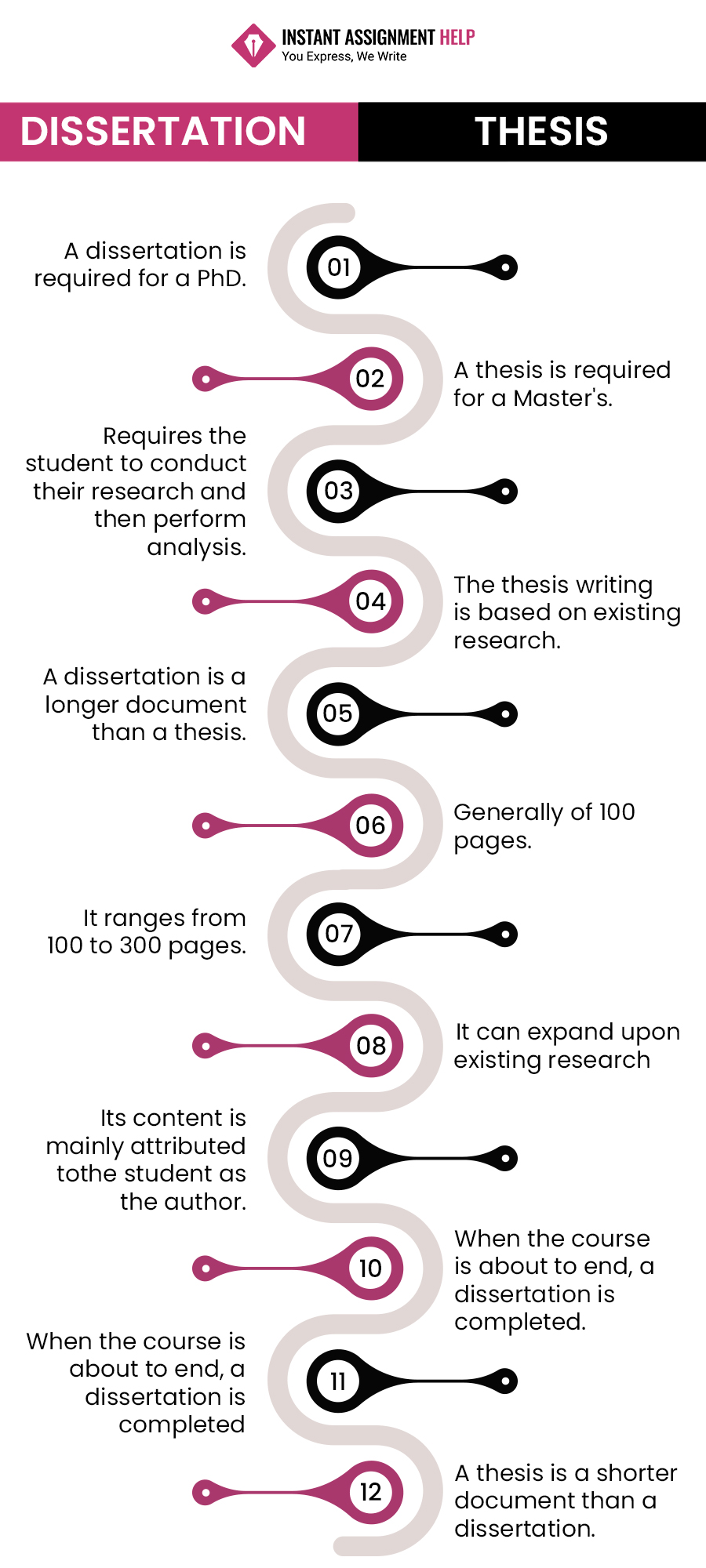 These are the main distinctions between a thesis and a dissertation. The entire credit for writing a dissertation goes to the student. On the other hand, in the thesis, an idea is based on existing research, and if the student wants, they can expand it. Search online or contact IAH experts to learn more about the differences between a dissertation and a thesis. If you need assistance or are stuck with them, read the section below!
Still, Confused Between the Dissertation and Thesis? Ask Experts
For students or academics working on a dissertation or thesis and looking for quality work, Instant Assignment Help is a one-stop destination. Visit our dissertation help specialists for incredibly well-written papers.
These authors' work is credible and exceptional because of their skill sets. Almost every topic related to various academic paper types is covered on our website. There are several other services that we provide, such as:
24x7 at your service
Unlimited free revisions
Professional writers
100% plagiarism-free content
On-time delivery
Flawless document
Hassle-free refund
Pocket-friendly prices
Unlimited free revisions
If you also want to enjoy these benefits and get perfect grades in your dissertation or thesis, Reach out to our expert now!