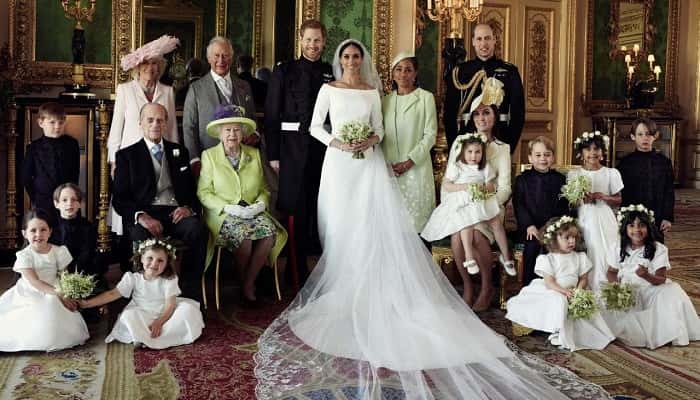 Throughout history, the members of the British royal family are getting hitched stylishly. We all have recently witnessed Prince Harry, Duke of Sussex, and former American actress Rachel Meghan Markle's wedding extravaganza at St. George's Chapel, Windsor. The royal couple exchanged the vows in front of 600 guests, including the Queen, more than 30 royals and prominent figures, such as George Clooney, Sir Elton John, David and Victoria Beckham, Oprah Winfrey, Serena Williams, and Idris Elba.
The bride wore a stunning elegant white gown designed by British designer Clare Waight Keller at Givenchy. She wore the Queen Mary's glittering Diamond Bandeau tiara, lent to her by the Queen. On the other hand, the Prince wore the frockcoat uniform of the Blues and the Royals. The estimated wedding cost is around £32 million. With this, let's take a look at some other British royal weddings that took the world by storm.
Prince William and Catherine Elizabeth Middleton's wedding
Prince William, Duke of Cambridge married Catherine Elizabeth Middleton on 29 April 2011 at Westminster Abbey in London. Their wedding ceremony was viewed live by more than tens of millions of people around the world, including 72 million live streams on YouTube. The overall cost of the event was estimated to be £23.7 million. Middleton's wedding attire was designed by the London-based designer Sarah Burton at Alexander McQueen. The Prince wore an Irish Guards mounted officer's uniform in Guard of Honour Order with a forage cap.
Prince Charles and Lady Diana Spencer's wedding
The wedding of Charles, Prince of Wales, and Lady Diana Spencer was widely billed as a "fairy-tale wedding" and the "wedding of the century." It took place on 29 July 1981 at St. Paul's Cathedral in London. The bride's wedding attire was designed by Elizabeth and David Emanuel and valued at £9,000 (equivalent to £31,658 in 2016). The groom wore his full dress naval commander uniform.
As Prince Charles was the heir to the British throne at that time, the wedding was attended by many foreign heads of the state, including the President of the French Republic, the President of the Federal Republic of Germany, the Prime Minister of Turkey, and the First Lady of the United States. The overall cost of the wedding was close to £52 billion in today's pound.
Prince Edward and Sophie Helen Rhys-Jones' wedding
Prince Edward, Earl of Wessex, got married to Sophie Rhys-Jones on 19 June 1999 in St George's Chapel at Windsor Castle. Unlike other royal weddings, theirs was not a state occasion as there was no ceremonial state of military involvement. It was mainly a family occasion. Their wedding's broadcast garnered more than 200 million viewers from across the globe.
Prince Charles and Camilla Parker Bowles' wedding
After Prince Charles' divorce with Lady Diana Spencer in 1996, he started seeing Camilla Parker Bowles. They announced their engagement on 10 February 2005 and got hitched on 9 April 2005 at Windsor Guildhall. The event was attended by notable faces, including international political, religious, and royal figures, and various celebrities.
Princess Anne and Mark Phillips' wedding
Princess Anne, the only daughter of Queen Elizabeth II and Prince Philip, married Mark Phillips on 14 November 1973 at Westminster Abbey in London. The bride's wedding dress was designed by Maureen Baker, the chief designer for Susan Small and she wore Queen Mary Fringe's tiara. The groom wore the uniform of his regiment, the Queen's Dragoon Guards. The couple divorced in 1992 and Princess Anne married Commander Timothy Laurence later in that year.
These were a few extravagant royal weddings in the UK through the years that transformed into global events and garnered thousands of spectators and left millions of viewers in awe. Hope you enjoyed reading this blog!
If writing assignments seems a daunting task to you, then hire us to craft your documents. We, at Instant Assignment Help, have an incredible team of experienced writers and academic experts who provide the exceptional assignment writing services to scholars around the globe at economical prices. Contact us now for more details!
You may also like
Why is January the Most Challenging Month of the Year?
Often Repeated Mistakes by ESL Students While Talking
Common Mistakes Students Must Avoid when Writing a College Assignment
Busting 5 Popular Misconceptions About Accounting
4 Ways in Which You Can Train Your Brain to Work Productively