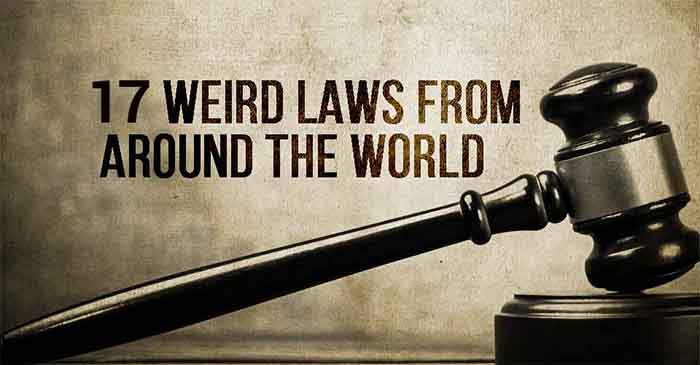 The laws are a set of rules that are enforced by the government to maintain peace and welfare in the society. In ancient times, they were made by the emperor, but today in most countries, legal norms and regulations are made and passed by a group of elected public representatives such as a parliament or congress. These laws help the citizens live their life with dignity and allow them to work, socialize, worship, and reach their goals. But sometimes the rules set by the government are so weird that it seems impractical, illogical, and futile. If you are wondering how bizarre these laws can be, then have a look at some of them and ponder deeply why they were created:
1) In Victoria, the south-eastern state of Australia, a person is not allowed to change a bulb unless he/she is a qualified electrician. Otherwise, that individual would have to pay a fine up to ten Australian dollars.
2) In seven U.S states, an atheist is forbidden from attending any public office.
3) In Singapore, chewing gums are neither produced nor imported. Moreover, using and splitting them is treated as a criminal offense. Since 2004, only chewing gum of therapeutic value is allowed into Singapore under the "Regulation of Imports and Exports (Chewing Gum) Regulations."
4) Wearing high heel shoes while visiting historical monuments in Greece is illegal. This law has been made in order to protect them from damage.
5) In Saudi Arabia, women are not allowed to drive a car. Thankfully, this law has been reformed now, and from 2018 women in this country will have the right to acquire a driving license. You would also be surprised to know that until 2015, Saudi women were not even allowed to vote and stand for elections.
6) Although Saudi Arabia is a signatory of the "United Nations Convention on the Rights of a Child," which considers those under the age of 18 as children, this country has not set any minimum age for a girl's marriage. In 2009, a court refused a divorce petition from an eight-year-old girl who was forcefully married to a 58-year-old man.
7) In Greece, the cops are allowed to arrest anyone suspected of having HIV. They can also force the suspected person for undergoing an HIV test. Moreover, they can publicize the names of HIV-positive people to get them evicted from their homes.
8)There is a law in South Carolina called the no "mock proposal" law, which says that anybody above the age of sixteen years is not allowed to perform a proposal if he/she does not mean it.
9) In Montana, "proxy weddings" are allowed for those serving in the military, which means a friend can pretend to be the groom or the bride and the union will still be considered valid.
10) In Vermont, New England a wife needs the husband's permission to wear false teeth.
11) In Samoa, a country between Hawaii and New Zealand, it is illegal to forget wife's birthday, and it may lead to paying a heavy fine.
12) In Denmark, attempting to escape from prison is not illegal. However, that attempt must be successful. If someone is caught, then he/she will have to serve the remaining period of sentence.
13) In Honolulu, Hawaii it is forbidden by law to sing loudly after sunset.
14) In the UK, a law still exists from the Middle Ages that requires all males over the age of fourteen to be trained in shooting a longbow.
15) Bangladeshi children of fifteen and older can be sent to jail for cheating during final exams.
16) In Florida, it is illegal for a widowed or divorced woman to skydive on a Sunday afternoon.
17) In Colorado, it is illegal to collect rainwater. And, farmers and landowners are often punished for this.
People sometimes do strange things. Therefore weird laws are made to help straighten them out. But some of these bizarre laws almost seem like urban myths or too ridiculous to be real. Hope you liked reading the interesting information that we have shared here. If you are unable to write your law assignment on your own, then seek help from Instant Assignment Help. Our team of law assignment writers is highly qualified and well-versed with the writing pattern followed in the universities all across the world. Along with this, all our services are priced reasonably, so you need not break the bank to get a high-quality law assignment writing service.
You may also like
6 Ways To Train Yourself to Work Harder
Self-Esteem Activities to Help Kids Perform Better in Homework Writing
7 Secrets for Achieving Excellent Grades in College
5 Tips On Converting Your Average Grades into Top Ones
7 Scientific Writing Tips to Draft an Excellent Microbiology Assignment