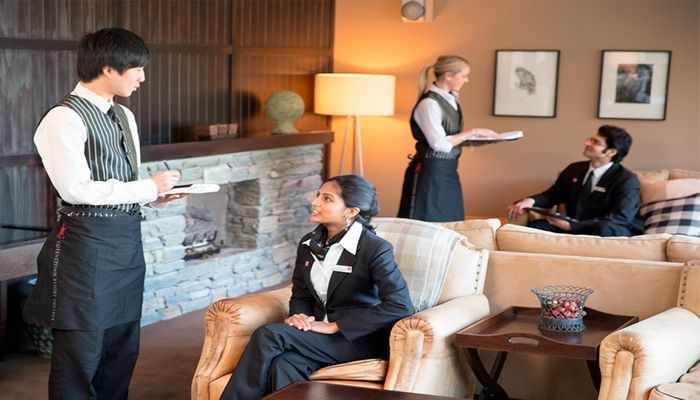 The hospitality industry is categorized into many sectors, such as hotel, tourism, food services, etc. All these areas are basically customer driven, and that's why while pursuing a degree in hospitality management, students need to learn the customer management. Hence, the academic course and syllabus of this subject revolves around understanding the needs of customers, and how it can be fulfilled with the help of services and various resources. Students often get assignments of this subject that are sometimes a hard nut to crack. If you lack knowledge of this subject and are not able to write assignments, then take a look at some of the commonly asked questions listed below by our hospitality assignment help experts:
Get the Overview of the Hospitality Questions:
Our Ph.D. certified academic writers hold great knowledge of this subject, and they are well versed with every concept of hospitality. Here, in this blog, they have explained the basic, general, and complex questions that can be helpful in writing hospitality assignments. So, let's have a look at them:
Note- Questions explained here are only for gaining the basic understanding of hospitality assignments. For any further assistance, students can get in touch with our expert writers.
Key Questions of the Hospitality Management:
1. What are the various models of Hospitality?
In the hospitality industry, various business models are defined as per their level of operations. Let's read and understand them:
a) Business to Client Model:
In this model, communication directly takes place between a service provider and a client.
b) Business to Business Model:
In this model, a business organization sells its services to other platforms, such as Priceline, Expedia, Hotwire, Trivago, etc.
c) Client to Client Model:
In this model, virtual communication takes place between clients via forums, blogs, newsletters, etc. On the basis of them, various packages are made.
d) Business to Business to Customer Model:
In this model, a business sells its services or products to another company which are further sold to its customers directly or indirectly.
2. What are the marketing strategies in hospitality management?
Different kinds of marketing strategies are used in various sectors of the hospitality industry. Their primary goal is to increase customer penetration, sales, and revenue. These can be categorized into two parts:
a) Mobile Marketing: As today more than 80% mobile users have internet, it is considered as one of the effective marketing methods used in hospitality. In this mode, a number of aspects are covered, such as website, social media, apps, etc.
b) Franchise: It is used to increase the offline presence of a business organization so that it can generate more revenue.
3. What is customer relationship management and its advantages?
Due to the dependency of customers on the growth of the hospitality industry, it is considered as the critical and most important concept. Customer relationship management is the study of interaction with the present and future users or customers. It can be helpful in the development of winning strategies, better customer support, customer retention, and growth in sales.
a) What is the importance of training and skills?
Customer experience is the driving factor in the growth of the hospitality industry. Revenue of a business organization is directly proportional to the number of customers it serves. As a result, it is essential for companies to train their employees as per the standard, so that they can provide top-notch services to their customers. It is also helpful in making better communication between employees and customers.
5. What are the different types of management in hospitality?
a) Supply and Demand Management
It is helpful in recognizing the demand of services and products so that proper supply can be maintained.
b) Front Office Management
It is helpful in creating a customer database, enhancing customer relationship, handling customer requests, generating reports, etc.
c) Revenue Management
It is helpful in understanding the demands of customers and inventory so that prices can be kept as per the situation to maintain the high revenues.
6. Case study of hospitality models that various brands are following
In your assignments, professor can ask you to write a case study on the leading business organizations in the hospitality industry. Writing a case study needs a lot of research, and that's why it is considered time-consuming. So, before you start planning your case study, you should first read the business models of the various organization, and it can help you sort out a suitable one for your assignment.