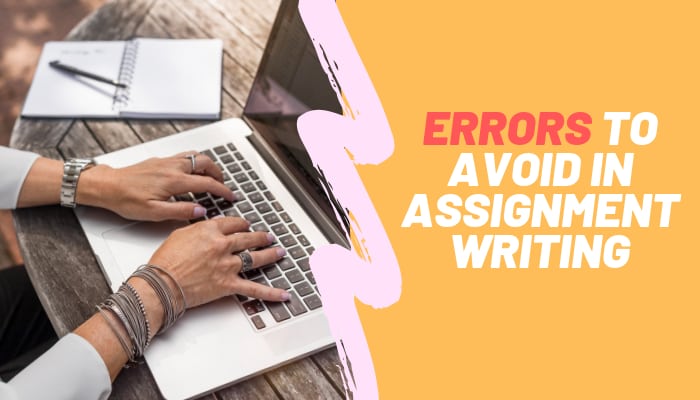 Assignment writing is a crucial part of the academic career and even a single mistake in it can cost you a lot. So, a student needs to be over-cautious while drafting the paper. This write-up illustrates the mistakes that students must avoid while drafting their assignments. Even the best students can make slip-ups when they have no idea what to do and what not to do when it comes to writing assignments. So, to help you with the same, here are the ten common errors highlighted by our college assignment help experts that must be avoided when writing an assignment. Our experts have also mentioned the best ways to avoid these errors in the assignments.
10 Errors to Avoid in Assignment Writing
Tenses
The most common mistake that students often make while writing the assignment is tense errors. It is the most basic error that they perform. A simple tense error in your assignment can make you lose grades as it changes the whole meaning of the sentences.
Tips to Avoid This Mistake:
It is important to pay attention to tenses.
Make sure to follow one tense throughout your writing.
Paraphrases
Paraphrasing has become so common these days that almost every student do this. When you convert a person's dialogues or his thoughts into your words to put down in your assignment, you are doing plagiarism which can lead to serious consequences.
Tips to Avoid This Mistake:
If you are using someone's quotes, then give proper credits.
If you are inspired by the idea, then
Spellings
A spelling mistake in the piece of writing is one of the worst mistakes that a writer can ever do. It might lead to a factual error, error in a person's name, a well-known place or anything like this. But, this is not correct as writing wrong spellings shows your carelessness.
Tips to Avoid This Mistake:
Make sure to check the spellings before the submission of the assignment.
Check for the complex words you have specified in your writing.
Repetitive Words
One more error that is hard to tolerate, by any kind of a reader is repetitive words within your assignment. A reader definitely cannot tolerate reading one particular word throughout the assignment that it becomes a word kill.
Some of you do this just to increase the word count and some, because of the fact that they don't have a choice but to use it.
Tips to Avoid This Mistake:
Instead of using the same word, use synonyms of that word.
Example: if you are writing important, then use its synonyms- main, key, chief, crucial, vital, etc.
Too Long Sentences
One thing that you have to keep in your mind while writing the assignment is not to use the complex sentences. To comprehend complicated and jumbled sentences is quite difficult for the reader.
Tip to Avoid This Mistake:
Stick to simple and traditional sentences.
Don't stuff too much information in a sentence.
Use of Active Voice
Active voice can come off as being too close and too personal for the reader. But, the use of passive voice while writing the assignment can be formal and distant. Use of active voice can lead to excessive word count.
Tips to Avoid This Mistake:
Use passive voice.
If there is a need to use active voice, use it in the right way.
The Two Sides
There is always one thought that stays inside your head before writing that is whether to be formal or informal. While being informal can strike a chord with the common readers, it might not go well with your professor. Formal writing can become boring and factual, but it is often what the professor seeks
Tips to Avoid This Mistake:
Keep a balance between both.
Stick to only one- formal or informal.
Redundancy
The most important aim for you is to keep the reader hooked to your content and not irritate them. Redundancy is built with unnecessary usage of words just to make the essay lengthy. You must try to avoid it as it comes automatically to us.
Tips to Avoid This Mistake:
Do not use unnecessary words.
Try to avoid it as much as you can.
For instance: Instead of writing most simplest, you should use simplest.
Poor structure
All good assignments need to have an impressive structure which allows the whole assignment to flow smoothly. If you do not have a proper structure in your assignment, then it will affect your grades. The usual structure consists of an introduction, body paragraphs and, a conclusion. If you are not following this structure, then you will not be able to present your ideas properly.
Tips to Avoid This Mistake:
Stick to a particular structure.
It's better to stick to one idea per paragraph for a clearer focus.
Lack of Evidence
Within assignments, you will be expected to use a lot of resources to justify your arguments. Without evidence, your assignment is of no use. The assignment loses its credibility when there's no evidence to back the opinion that you have presented.
Tips to Avoid This Mistake:
Analyze each point and come up with the conclusion.
Have a complete understanding of the topic.
Be cautious and sincere while drafting your assignments.By now, you must be aware of all the errors that a student makes while writing the assignment. Apart from making the above issues, some students procrastinate and miss the deadline. You must avoid this and start working on your assignment as soon as the professor assigns you with the task.
If you face a lot of trouble in composing your paper, then you must seek online assignment help from the experts of Instant Assignment Help. Since they have been working in the academic writing industry from last many years, they are adept at writing flawless documents. The work that they provide you would not even have a single mistake.