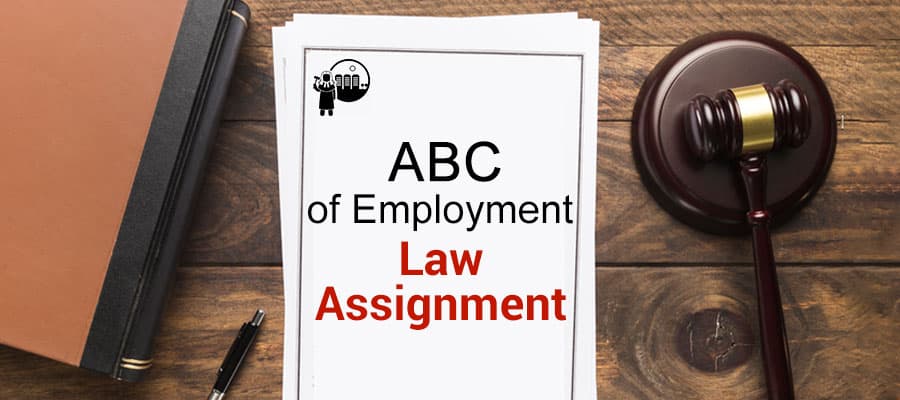 If you are writing a legal assignment, or to be precise, something on employment law, then this is what you have been waiting for. A blog that comprises the ABC of employment law for assignment writing from experts. So, let's begin with it.
What is employment law?
This is a collection of laws that regulate the relationship between employee and employer. This includes the set of rules and regulations that aim at building a strong relationship between the employee and employer. These laws also help in making sure there is legally no conflict between people at work.
What is the aim of these laws?
The main aim behind introducing and implementing these laws is:
To prevent child labour at work.
To maintain a good work-life balance.
To provide job security for the people.
To maintain a good relationship between the people.
To stop discrimination among people at the workplace.
To establish minimum pay for people based on their skills.
To promote the health and safety of the people in the workplace.
What are the characteristics of employment law?
Listed below are the characteristics of employment law.
These laws are used to mediate between an employee and employer based on the contract of employment.
They ensure the provision of minimum convenient working conditions for employees.
They ensure that employers information is safe.
They ensure the safety of the employee.
They ensure providing employee benefits.
They ensure the wrong termination is not encouraged.
What are the types of employment law?
Basically, there are two categories of this law, as mentioned below.
1. Three-fold labor law
This is also known as collective law. These are the laws that are applicable for employment generators, employers and employees. Since this deals with people at three levels, it is named as three-fold labor law.
2. Two-fold labor law
These are the laws that are applicable to two individuals. Thus, it is also known as individual labor law. These are specified only for the employer and employee relationship.
What are the different concepts of employment law?
Employment law includes the below-listed concepts.
1. Terms and conditions of employment as per employment laws
These laws deal with issues that are discussed at the time of employment. They include the hours of work, wages, incentives, awards, facilitation and other such elements that can affect the work-life of an employee.
2. Employment termination laws
These are the laws that are related to the termination conditions and process of an employee. They comprise of the actions that may lead to an employee getting terminated, violation of rules, etc.
3. Maternity, paternity, and family rights laws
Employees have a right to take unpaid family leave at the time of a child's birth, adoption or at times of any of their family members facing serious health issues.
4. Sexual harassment protection laws
They include laws that deal with the protection of employees from sexual harassment. These are applied to ensure safe working conditions for everyone.
5. Discrimination laws
This includes laws that are issued against any kind of discrimination among employees. This implies gender, colour, race, creed, etc. No kind of discrimination is encouraged among the employees.
6. Child labour laws
This comprises of laws that are against children working under a specified age at any workplace. This is to ensure that every child has an opportunity to lead a safe, happy and secure childhood.
7. Minimum wages
These laws state that everyone should get wages as per their skills and experience in specific fields.
These were the 7 of the concepts that are included in employment law.
So, this was all about employment law assignment. If you are facing any trouble with it, you can avail employment law assignment help from Instant Assignment Help. If you want to know what we provide with our services, then keep reading...
Why is Instant Assignment Help the best employment law assignment help provider?
1. Experienced writers
We have writers with years of experience in this field. So, they have in-depth subject knowledge and excellent writing skills. And, they will make sure you get the best work delivered to your mail.
2. High-quality content
Writing an assignment like a professional is not something easy. But, we have a team of quality analysts who can keep a check on the quality in our content for you.
3. Best services at cheap rates
We ensure that you get the best services delivered to your mail at the best affordable prices. We also offer huge discounts for both new and existing customers to make it easy for students to avail our services.
4. Hassle-free refund process
If you are not satisfied with our work, you can get it revised for unlimited times at zero cost. But, if you are still not happy with it, you can get the refund.
What are you waiting for? Contact us now to avail these services and get a flawless document delivered to your mail.