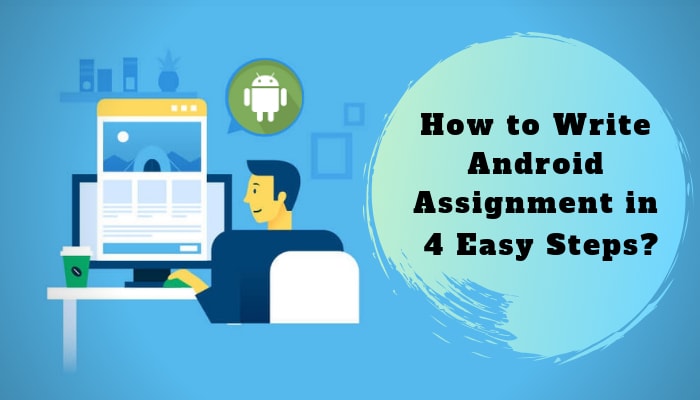 Typing computer codes for building an Android Application is a whole new complete experience. Remember, computer is a machine which will accept anything, provided the syntax is right but the concept doesn't applies to your professor unless you are being taught by a robot. On a serious note, a professor demands proper writing skills, relevant flowcharts, optimum coding lines, and most importantly authentic content to add good numbers in your progress card. And, it is a common scenario in classrooms that a student having at par coding skills with fetch lowest marks because of poor writing skills. But, this blog will bring the ball in your court. Here's a complete guide on how to write the best android assignment.
What Are the Steps Included in Writing Android Assignment?
In general, writing an assignment on Android will include the following 4 steps:
1.Brainstorming
2.Researching
3.Writing
4.Editing
These steps are tried and tested by some of the best android assignment help service providers in UK. In this blog, a step-by-step analysis of the four points are provided. Keep Sliding the Page!
Step-1: Brainstorming
Generally, students have so much ideas for writing the assignment but they end up getting tangled as their thoughts are disorganized. While some give up the writing task, the others end up being Shakespeare i.e., writing an assignment that goes over the head of the professor just like the English of the writer for most of us. If you are the one falling into either of the category, then here are some hacks for you:
Hack 1: White-Board Trick: Take a white-board and a marker. Write down all the ideas that are floating in your mind. After you are done stressing your brain, try linking all the topics to the centre topic. This mind-mapping technique is sure to help you big times.
Hack 2: "A Professor" Theory: Okay, visualize yourself in place of the professor and ask the same questions that your professor would have asked you. When you are done writing all the questions, make sure that your document has answers to all the questions. Easy, isn't it?
Either of the two hacks mentioned above will help you in choosing the best topic for Android Assignment.
Step-2: Researching
Done choosing your topic? Good, now quickly gather all the relevant information about the topic. Obviously, 'Google' will be your first priority but for more authentic information, you should shift your concentration more on the printed media ,i.e., academic journals, newspapers, etc. In case you are referring offline media then you can save the relevant paper cutting for accessing information lately, and in case of online media, you can bookmark the pages and refer them later. Doing so, will save you enough time at the time of writing the assignment on Android. Also, don't include irrelevant information in the assignment.
Step-3: Writing
If you are done being a researcher, then now is the time for you to be a writer. Assemble all the information and categorize it under different sections of the assignment, such as introduction, table of contents, bibliography, etc. Before beginning the writing task, you should keep the following things in mind:
1.College Guidelines: Make sure that your citation style (APA, MLA, Chicago, Harvard, etc.) should be the one prescribed by your university. Also, your content should not exceed the word limit given by the professor or else get ready for an average grade.
2.Proper Demonstration: An android assignment requires flowcharts & diagrams for better clarity of the topic. Therefore, do remember to include these elements in your assignment. Furthermore, coding lines should find their place wherever required in your writing assignment.
Step:4 Editing & Proofreading
Here comes the final step for making a top-quality android assignment- Proofreading & Editing. Both of these practices go hand-in-hand and are inter-related to one another. Proofreading is a practice which focuses on identifying grammatical errors from your assignment whereas through editing you can rectify the mistakes which will obviously land you good grades.
Tips for Proofreading:
Sit With a Peaceful Mind: Proofreading requires adequate focus which will only come when you have a fresh mind. Thus, you can take a break of a day or two after writing your assignment before you begin the task of proofreading.
Assign Proofreading Task to Others: The fact that you will overlook your mistakes has high probability. Therefore, it is a better approach to seek help from others for the task of proofreading.
Tips for Editing:
Proper Connectivity: Each section of your assignment should be interconnected with one another following the university guidelines.
Don't Over-Exceed: Make sure that you have written the assignment within the word limit. Over-exceeding will eventually hamper your academic grades.
So, these were some of the steps for writing an assignment. Moreover, if you still find yourself incapable of writing a top-quality android assignment, then you may wish to take online assignment Writing Services from our website.