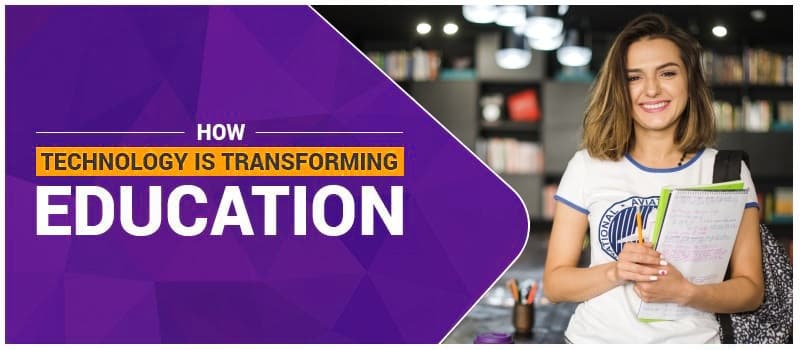 Think of a day without any digital device with you. Actually, not a day. Just a couple of hours. Could you? Exactly. You can't. We are surrounded by technology today. Everything that we have is in one way or the other related to technology. We literally can't imagine our lives without technology these days. Everyday there are advancements being done in the field of technology which makes it impossible for us to live without the latest technological devices or gadgets. From a 5 year old to an 80 year old , every person has a phone in his hands every once in a while. In every domain, technology plays a vital role in assisting the tasks which are complex. Technology has given us efficient & effective ways to do things which would take a lot of time if done by humans.
Just like other fields of work, technology has transformed the dynamics of education as well. Over the years, technology has brought unbelievable changes in the ways of imparting & getting education. Unlike the traditional methods, new techniques of teaching and studying have emerged over the past few years which have proved to be super effective and have fostered impactful learning. Technology has definitely changed the game if we talk about education as it has been made much more easier and coherent. Of all the splendid benefits that technology offers to aid the education sector, few of them are mentioned below.
Access to Learning Material
Diversity of the content available online helps students have free access to whatever learning material they are looking for. It helps the students to understand things better and also enables them to have numerous choices to choose study material from. The availability of learning material also makes sure that students learn as per their own convenience and abilities.
Modeling and Other Software
Modeling software allows students to see models which is impossible without the use of technology. Other simulation software also help the students to see the things like motion of galaxies, life of some living organisms, etc. Technology gives an interface to the students to understand concepts better.
Technology Helps Students to do Complex Work Easily
Needless to mention that everybody is too busy these days. There is a lot of pressure for everything, acknowledging the hasty life of every individual. This is the reason why most people don't want to do tasks which do not matter too much and can be done by gadgets. Technology has undertaken to do the most complex and time consuming tasks which can save time. Students can rely upon technology for assignment help, calculations, and research. Since the assignments given to the students take time, the students can easily seek assignment help online so that they focus on core tasks.
Fun Way of Learning
For beginners in school, interactive learning through technology has proved to be an outstanding way of getting educated. Kids get entertained by unique teaching ideas and can retain more as they are able to see the things virtually, which can get really boring and difficult to picturize if taught through books.
Students Get Better Insights
The instantaneous that technology has provided is very useful for the students who are keen to get insights of what they have learned or what they are learning. Students can research about several topics and take tests online with detailed insights which is not possible if done manually.
Improved Communication and Accessibility
Transparency has reached to a whole new level with the introduction of technology.Parents, teachers, and students are so well connected that there is no delay in sharing information and ideas which ensures better control on the education of the students.
Practical Knowledge to Students
Use of technology in education helps to develop the practical know-how among the students which is beneficial for them in the long run. The technical skill-set of the students gets them numerous job opportunities. Students having technical knowledge get better opportunities in the future and they certainly make places in better & modern workplaces..
Technical know-how is an indispensable skill in the modern world.Today, technology has taken over the work at every concern in every industry which is why it is extremely important to include technology in our lives in order to cope with the inflated demand of technically skilled workforce. A career option in technical field can prove to be fruitful for potential job seekers near in the future.