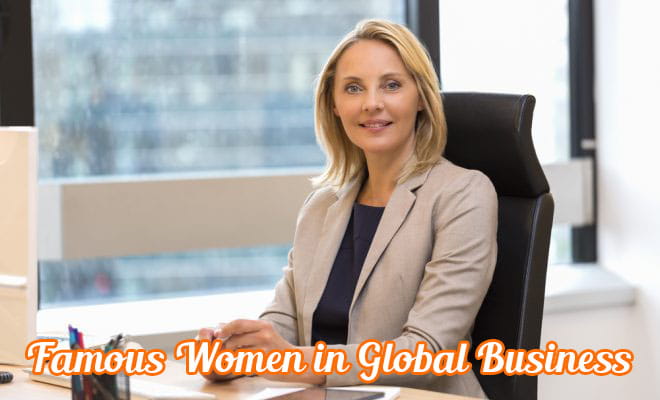 Hillary Clinton said that women are the largest untapped reservoir in the world. As per neuroscientists, there are some innate qualities in women that make them better leaders. Despite the fact that more men still hold top managerial positions, in the last few years, there has been an incredible rise in the numbers of female CEOs, Managing Directors, Vice Presidents and other top business position holders. Getting to the top isn't that easy, even in the contemporary world but these women crossed all the hurdles in their path to set a benchmark for many others:
1. Mary Barra
Chairman and CEO, General Motors
She has broken the glass ceiling by becoming the first female CEO of a major global automaker. In her five years tenure as Chairman and CEO, she transformed General Motors by cutting unprofitable ventures and investing in the future. At present, the company has become a leader in electric and autonomous car technology leaving behind all its competitors. In the coming years, Marry Barra will be coming up with all new technologies, such driverless and all-electric cars, which would take the company to the next level of excellence.
2. Indra Nooyi
Chairman and CEO, PepsiCo
She is serving as the chairman and CEO of PepsiCo since 1 Oct 2006. During 2017, while the company witnessed a stagnant revenue, profits jumped by 16%, and its stock outpaced most of its competitors. Moreover, cash from operations was $3.9 billion for the year, and free cash flow was $3.5 billion. Indra played a major role in international planning and development of the company over the past decades. Besides holding the top position of this company, Indra Nooyi serves on many boards ranging from Yale University, the U.S. Soccer Federation, and U.S.–India Business Council.
3. Abigail Johnson
President and CEO, Fidelity Investments
Abigail Johnson is president and CEO of US firm Fidelity Investments since 2014. Fidelity offers retirement, cash & lending, wealth management, and investment products such as mutual funds, ETFs, alternative investments and more. Fidelity posted $18.2 billion in revenue in 2017 which means a 13.9% surge from the previous years.
4. Sheryl Sandberg
COO, Facebook
Sheryl Kara Sandberg is the chief operating officer of Facebook since 2008. She is also the founder of Lean In, a nonprofit organization named after her bestselling book, to support women's empowerment. Before joining Facebook as its COO, she was vice president of Google's global online sales and operations. On November 1, 2017, Facebook posted an increase of 47% in its total revenue. And, profitability for the company improved, as its net income grew to $4.70 billion.
5. Ginni Rometty
Chairman, President, and CEO, IBM
She joined IBM in the year 1981, and held many top positions such as senior vice president and senior executives for sales, strategy, and, marketing, before becoming the president and CEO in 2012. IBM is a cognitive solution and cloud platform company that leverages the power of innovation, data, and expertise to improve business and society. During 2017, revenue of the company from its newer businesses such as cloud, analytics, and mobile accounted for 45.6% of sales, which marked a five percent rise from the previous before.
6. Safra Catz
Co-CEO, Oracle
Catz is the co-CEO of Oracle since September 2014 when founder Larry Ellison stepped down from his position. At present, she is one of the highest paid business executives across the world. She is credited with spearheading Oracle's expansion: hiring 5,000-plus new engineers, salespeople, and other staffs to augment the enterprise tech giant's cloud business. Bloomberg reported that Catz was a member of Trump's transition team in 2016, and she might be given a ministerial position in the Trump administration soon.
7. Phebe Novakovic
Chairman and CEO, General Dynamics
Phebe Novakovic is a former intelligence officer and currently serves as the Chairwoman and Chief Executive Officer of General Dynamics. In September 2017, the company received a $5 billion order to design the next version of the U. S. Navy's ballistic-missile submarine. In 2018, the company marked revenue of 8.1%, and operating earnings rose from 34.6% to $1.03 billion. Moreover, cash from operations was $3.9 billion for the year, and free cash flow was $3.5 billion.
Gone are the days when women were confined to the four walls of a home. Now they have proved themselves in all spheres of life including the most intricate world of business. If you are a student of business studies, management, or commerce, then it's suggested to read more about these top business women and their respective managerial strategies. However, if loads of assignments are impeding you from this, then seek assistance from our business assignment help experts.