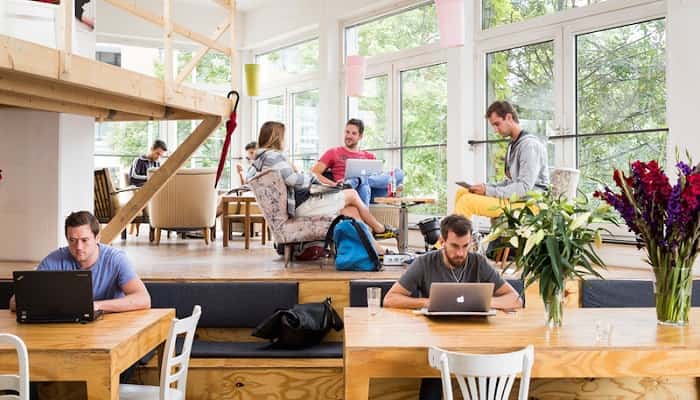 Coworking is a social gathering of a group of individuals who work independently but share value. The coworking movement was started by Brad Neuberg back in 2005 in San Francisco with an idea to combine the independence of freelancing with the structure and community of office space. Today, it has become the growth center of the startup ecosystem because it allows all kinds of workers, including traveling employees who need a desk to work, and freelancers who experience the problem of isolation while working at home.
Coworking spaces provide tremendous potential to entrepreneurs, work-at-home professionals, and other independent workers who are interested in synergy. These spaces have also caught the attention of larger organizations, who are planning to trim down their office space and decrease expenditure. From projectors and printers to Wi-Fi and phone answering services, they come equipped with the tools, and technology one needs to carry out one's work. With this, let's find out some more reasons why coworking spaces are becoming popular.
1. Cost-effective
One of the main reasons why coworking space is attracting everyone's interest is that they are budget-friendly as compared to traditional office spaces. Depending upon their location and availability, they offer significant cost benefits and provide the ability to hire out only the desired area. They are the first choice of entrepreneurs who can't afford to buy the entire space to operate their business.
2. Provides Encouraging Environment
Freelancers often struggle with isolation when working at home. They miss on constructional and social contact that traditional office spaces offer. As coworking spaces are built around the ideas of connection, collaboration, and world-class networking, they provide an encouraging environment to individuals and greater possibilities to flourish. Independent professionals working in these spaces also find inspiration from their deskmates, and some even get exciting job opportunities.
3. Offers Flexibility
Coworking spaces offer extraordinary flexibility over tradition office spaces because they are designed according to the quality and capability of an individual or an organization's need. With this kind of arrangements, the rental agreement is also flexible, and you are not obligated to make any long-term commitments. Startups, freelancers, business nomads, or those traveling to the country for a few months prefer such options because of the flexible work options at affordable prices.
4. Promotes a Sense of Community
The concept of coworking spaces is best suited for individuals who love to share their office spaces with people belonging to different professional backgrounds. Unlike traditional workspaces where the sense of isolation prevails among the crowd, coworking supplements the social facets of work life. Even studies have shown that professionals working in such arrangements are happier, more productive, and motivated than their stay-at-home and cubicle counterparts.
5. Improves Work-life Balance
Work-life balance is something for which everyone is striving for. People working in traditional office spaces generally struggle to maintain a healthy balance between their work roles, their responsibilities, and family life. But coworking individuals report a better work-life balance. A recent survey has found that 90% of the professionals feel more confident and motivated when coworking because they have the liberty to work according to their needs and situations without any repercussions.
These reasons prove why the concept of coworking has spread quickly in the entire world. With so many freelancers and entrepreneurs in the workforce, it's no surprise that the demand for coworking spaces will skyrocket in the future. Being a student, you can utilize these spaces to carry out your freelancing work or run your startup as they provide excellent opportunities to flourish, reduce financial burden, and simultaneously motivate and retain your talent.
If you are looking for reliable coursework help, then contact us right away. Our academic writing services are acknowledged across all countries of the world, including the UK, the USA, Australia, Canada, New Zealand, Malaysia, and many others. Our writers hold years of experience in their respective fields which has made them well-equipped with all the skills required to prepare a high-scoring document. Place your order now and avail seasonal discounts and additional benefits!
You may also like
Top 5 Weirdest Diseases Known to Mankind
6 Ways to Combat Procrastination
4 Secret Ways to Help You Become a Smart Student
5 Unusual Ways of Celebrating Easter Around the World
3 Ways to Utilise the Online Assignment Help