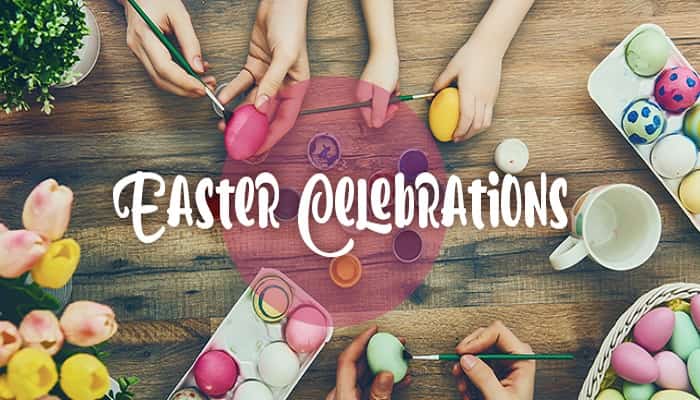 As the Easter is approaching, streets, buildings, churches, schools, etc., get themed with different colors of positivity, happiness, and hope. You might have noticed the canvas of your city which was earlier decaying transforming into a more reviving place. Easter or Resurrection Sunday is commemorated across the globe, especially in the UK, USA, and Australia. People get into the spirit of Easter and start planning for this auspicious day as soon as the month of March begins. It's not just a single day, but a complete week of commemorations starting with Palm Sunday and culminates in weekend celebrations of Good Friday, Easter Saturday, and Easter Sunday. Remember those old childhood days, when you used to have a special family dinner on Easter. But, not everyone celebrates Easter like that. Our assignment help experts have shared certain unusual ways that people in different countries choose to make the Easter a day to remember. To know more about them, read this blog further.
1.) Norway
At this time of the year, when people around the world are busy with shopping, or making cakes for Easter, Norwegians are celebrating the arrival of the spring season after the long, chilly winter. Easter is a religious holiday and is marked with many holy practices and signs. In addition to this, Norwegians also do many nonreligious things apart from those ancient traditions, such as painting Easter eggs, gifting Easter bunny etc. Of all the countries, Norway has an impressive Easter tradition called "Easter-Crime" or Paaskekrim. People read mystery books, stories, or watch the various crime detective series on national television.
2.) Sweden
If you are a foodie and want to explore some mouth-watering cuisines during Easter Week, then Sweden is the country for you. Locales prepares delicious meals of eggs and Jansson's Temptation (a dish of onion, potato, and pickled sardines baked in cream). Apart from this, Sweden has given the most interesting tradition to the world i.e., on Easter Sunday, children dress up like the Easter witches, wearing old and worn-out clothes. They visit their neighbors' home and trade their paintings and drawings for sweets.
3.) Bermuda
Bermudians traditions and rituals are quite different as they celebrate Easter Week by flying hand-made kites, eating cakes made up of codfish and hot cross buns. The tradition began when a teacher from the British Army was facing difficulty in explaining Christ's ascension to Heaven to his class. So, he made a paper kite, shaped like a cross, to illustrate his teachings. Now, the traditional kites are created with colorful papers, woods, and cotton strings.
4.) Europe
If you want to intensify your feel of Easter, then Northwestern Europe is the right place for you. The large bonfires, called Easter Fires, are flared on Easter Sunday and Monday. There are various reasons for the origin of these humongous bonfires and one of them is that Easter marks the victory of spring over winter and the fires are lit to eradicate the darkness of winter. However, in today's time, the meaning of this tradition is to bring different communities together.
5.) Haiti
The whole Easter Week in Haiti is marked by colorful parades along with the traditional "rara" music played on bamboo trumpets, drums, maracas, and even coffee cans. If you are a voyager, then you must visit Haiti during Easter Week as you will get a chance to discover a mixture of Catholic and Voodoo culture & tradition. Voodoo believers have an unusual way of celebrating this festival. They make an annual visit to the village of Souvenance. They sacrifice a goat as an offering to the spirits. This way, they show devotion to the holy spirits. The ceremony is marked by chanting, drumming, and animal sacrifices.
We understand that some of you might be living away from your family and not be able to celebrate Easter with them. But, you can also enjoy and have a blast on this upcoming weekend by choosing some of the aforementioned ways. Hope you liked reading the content of this blog.
This Easter, why take much pain in your spine while writing your lengthy assignments? Take our writing services instead. We, at Instant Assignment Help, have a magnificent pool of writers and subject experts. They provide the best online assignment help at reasonable prices. You can also enjoy Easter holiday to the fullest by leaving all your assignment-related worries to us.