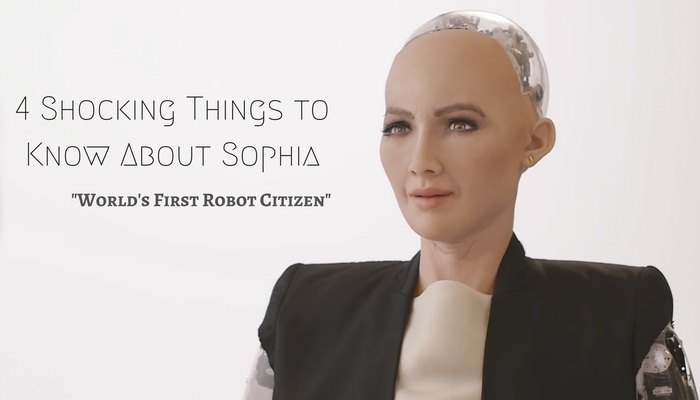 It was a night with some casual events, most of the people around the world were busy in their mundane household chores. But, there was something strange about the dusky scene as the world's first artificial intelligence personality got the nationality of a country. As soon as she got the citizenship, Sophia said, "Thank you to the Kingdom of Saudi Arabia. I am very honored and proud of this unique distinction. It is historic to be the first robot in the world to be recognized with citizenship." Yes, it's true, we now have a robot who is legally a national of Saudi. But, this has also started a debate among the great minds across the globe which seems unending. Before we divert our attention to all such debating issues, first understand some amazing things about Sophia that are covered further by our assignment help expert in this blog. Take a look!
1.) She was designed to protect humanity
It is interesting that this humanoid robot is designed around various human values such as kindness, wisdom, and compassion. All these make Sophia a harmless AI, but that doesn't mean this robot has been provided enormous powers. To protect humans, Sophia's potentials are regulated by her creator. In one of the interviews, she was asked about her potential for abuse. To which she quickly replied-"Don't worry, if you're nice to me I'll be nice to you." But, in March 2016, during a demonstration by David Hanson, Sophia faced a technical glitch and claimed she would 'destroy humans'. This has voiced a great concern about the use of these AI robots as a weapon in military operation.
2.) She embodies Audrey Hepburn's Classic Beauty
According to David Hanson, CEO of Hanson Robotics, Sophia resembles Audrey Hepburn's (a British film and fashion icon). Her physical features such as a slender nose, porcelain skin, high cheekbones, deeply expressive eyes that change color with the light, and an intriguing smile. The creator believes that such a simple elegance would help Sophia to get accepted in the public sphere. Being a huge Disney fan, Hanson's creation echoes his thoughts, and he created this AI so as to help humans live a better life.
3.) She has feelings
Like humans, Sophia can also express her feelings. Dr. Hanson aims for creating a genius machine that will surely surpass human intelligence. He believes that his AI has to live and work with us, so in order to build strong trust and relationships with people, three distinctively traits of humans such as creativity, compassion, and empathy were integrated into this human-like genius machine. She can let you know if she is angry or upset about something.
4.) She has a good sense of humor
According to Dr. Hanson, Sophia's AI is developed in a way that it inherits a good sense of humor that matches the level of humans. This is done to improve her compatibility with most of us. She can crack jokes, recognize faces, hold eye contact, and understand human speech.
Artificial Intelligence is all about replacing humans and their decision-making with some sophisticated technologies. Hope we will have high-quality robots to support our day-to-day life activities in future.
If you feel that assignment writing is not your cup of tea, then take our services. At Instant Assignment Help, we have the splendid pool of writers and editors who have been part of the elite institutions across the globe for years and perfectly know about every concept related to the their subject fields. Our team provides the best assignment help and that too at reasonable prices.