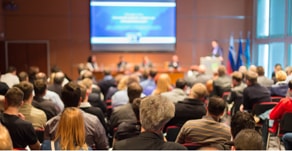 Do presentations give you goosebumps? Do you fear of going blank on the ultimate day? If yes, then worry not, this blog enlists all the tactics that would make you a star performer.
We have curated some useful strategies that would help you enhance your presentation skills. Hope they prove beneficial for you. Read further to get an insight into them:
Maintain an eye contact
Presentations primarily involve interacting with the audience. Make sure that you do not read the entire content written in the slides and rather give an extempore on the same. Try to engage the people at the hearing by making your presentations interactive. The panel usually sees for the convincing abilities in your personality.
Talk naturally
It is always better to be spontaneous while speaking about the motto of your presentation. Maintain a conversational tone and think as if it is a one-on-one interaction. Be well- versed in advance and try to make the presentation interesting.
Rehearse well
Rehearsing way before the actual day always proves beneficial. Counter the problems areas you are facing in your presentation and work on them beforehand. Doing so will ensure that you do not commit blunders eventually. Thus, practice until you get the point right.
Brainstorm for ideas
While making slides, brainstorm for the ideas that will make them interesting. Try and include infographics in your slides as they help to summarise a lengthy content in the form of diagrams - which are more appealing.
Keep the presentation structure in mind
Remember the sequence of your slides. You should have a clear understanding of the sections that you have mentioned in your presentation. Have an introduction and conclusion for your presentation.
Respond Concisely
Do not give long-formed answers. Cut short the unnecessary details and try to make it concise and understandable. Be confident even if you don't know the answer to a question. Either apologise or relate it to a relevant scenario. Presentations usually last for 5 minutes so it is better to convey your message precisely yet effectively. You can refer the online videos to take an idea on how a terrific presentation generally goes.
Presentations at the college level prepare you to perform at the corporate front. They help to sharpen your articulation skills that enhance your communication. Presentation skills are imperative to make it engaging and dynamic. We hope that this blog might have been of significant use to you.
Instant Assignment Help provides online assignment services that are entirely dedicated to benefiting the students at different academic levels. From dissertation writing, coursework, and the regular assignment help, we have the perfect solution for all your academic problems. Our experts are rank holders from the leading universities of the UK and are well-trained to provide professional level help.