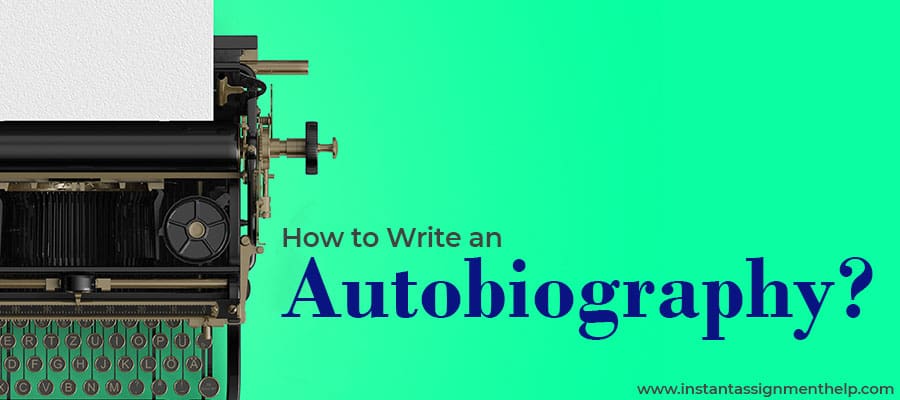 Every student has read some autobiographies in their life. They are inspirational, educational, insightful, and some are just pure fun to read. This makes one wonder, "How to write an autobiography?" The desire to write about yourself is tempting, and sharing your stories with the world is exciting. Well, a lot of hard work goes into that, and this blog will give you a basic understanding of it.
What Is an Autobiography?
An autobiography falls in a non-fiction literary genre. It is an account of a person's life story written by himself. The person himself is the main subject of the work and is open to be judged as either protagonist or antagonist by a reader. It is the first-person account of the writer's life, his experiences, and history. All other characters revolve around the writer, and they can be addressed with either real or dummy names. Writers or collaborators can be employed, but they can't add their opinion to the main story.
The main source of information in an autobiography is the person's memory. It can have materials like letters, photographs, memoirs of others, and reports of the time to support the story. It has an overall flow, which can be divided into four parts such as starting up, development, crisis, and resolution.
So, why does one feel the need for writing an autobiography? In the next section, let's understand its importance.
What Is the Need for Writing an Autobiography?
It is important because everyone's life is unique and has many interesting stories that one feels are needed to be told to the world. His experiences and responses towards a historical event or a global phenomenon which can be an important lesson for others. Autobiographies can be a source of inspiration and act as a deterrent while taking important decisions.
For example, people still read Mein Kampf(Adolf Hitler) to take lessons on how life events can extremize/indoctrinate one's ideology. Long Road to Freedom(Nelson Mandela) is preferred by many to take inspiration from his struggles. Also, My Experiments with Truth (Mahatma Gandhi) is a great book to understand the importance of truth in life and how it shapes your personality.
Their importance is also highlighted by the fact that autobiographies of important people give insight into the history of some events which are not present in the public domain. Some major revelations and conspiracies have only seen the light of the day due to such documents. Also, these give you a platform to express feelings about an event or incident or person which you may have never let out in the open.
There are other kinds of documents too, that deal with stories of a person, but there are basic similarities and differences in them. Here, we have compared autobiography, memoir, and biography.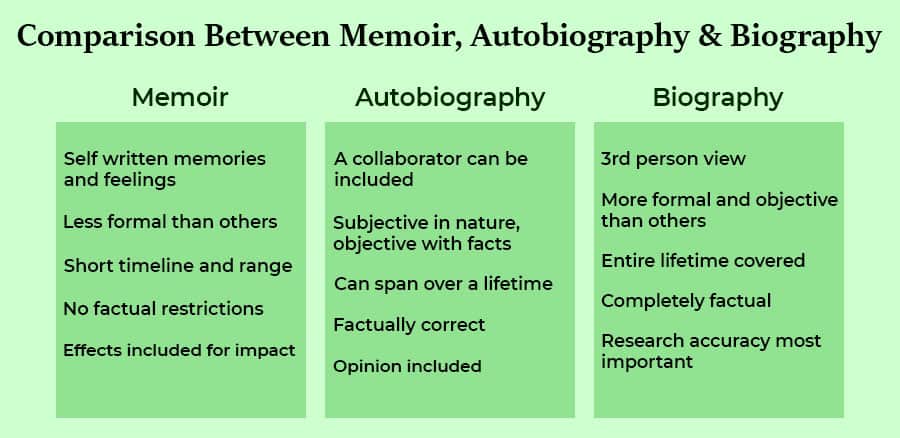 Now let's move to the structure of an autobiography. We have mentioned the major components here that one must include.
You May Also Like:Where To Start When You Have Just 1 Week Left To Write A Dissertation?
What Is the Structure of an Autobiography?
It can be written in a chronological order starting from birth, though one can give a little family description and background to connect with the reader. You can give snippets of a big future event that is connected to a particular event to build interest. Flashbacks can be employed to relate to an event in the past. Here is a set order which is mostly followed for an autobiography:
Life Story: While writing autobiography, one must start by giving life description, which can be started from an age when a person begins to have an understanding of the surroundings. It should be based on the events that have influenced you the most, have importance in your life, or are interesting experiences.
What It Means: One should discuss the meaning of these events in one's life. The influence they had on your attitude, personality, way of thinking, career direction, relations, etc. The learning you got that were helpful in the future or detrimental for it. The effect of these events on others around you.
Future: The future direction you are planning to take based on past experiences. The change of outlook that you plan to employ to shape your future in a particular direction. The position and place you want to see yourself in so that you feel fulfilled.
Conclusion: Give a summary of it touching upon important sections of the work. Discuss the reason behind why and when you decided to write it.
There is a process that one needs to follow in coming up with an engaging story that needs a rigorous process with the following steps.
How to Write an Autobiography?
If you have decided to write an autobiography, first of all, you must have time. It is a long look back on your life, which needs through recalling of events and the order in which they happened. Follow the given steps to create a document that is also a good work of literature:
Selection:List down all the events that you think make an important part of your life; there are must be many. You must include events from all stages of your life, which can be interesting for the reader. Try to recall as much detail regarding each event as possible.
Outline: Decide upon the narrative you want to build from your stories. One must arrange the events in a manner that the reader remains engaged till the end. Small interesting stories, in the beginning, lead to huge events in the future.
Research: It should be done around each event. Search for material from the past related to the story. You can discuss it with people who were involved in it. Look for things happening around you that directly or indirectly influenced it.
First Draft: Start your first draft based on the events you want to discuss. It is important that you keep in mind the narrative that you choose. Keep your focus on pouring out as many details as you like; first drafts are usually long and can be fine-tuned later. Use dates or popular events to give readers a feel of the period that you are talking about.
Rest: When it's complete, take rest for a few days. Your mind must have got filled with details and stories from the past, so it is important to clear them up before you read your work.
Edit & Proofread: Start reading your document. The aim is to not only find mistakes regarding grammar or facts but to look for the weaknesses and deviations in your narrative. You can improve them and remove unnecessary details that are distracting for you as a reader. Editing is very important as the facts stated in the document must be accurate since they are also connected to global events and other people.
Repeat & Read: Rewrite using the notes you have taken. This time ask a close friend to go through it and provide suggestions, or you can take help from an editor. This should be repeated more than once to improve the stories and their continuity. Repeated new drafts will improve your storytelling and writing.
After learning how to write a autobiography, you should know about some restrictions which apply to this type of writing and are to be followed diligently.
What Rules to Follow While Writing an Autobiography?
One should be factually correct when working on such documents. It can be subjective in the observations but have to be factually accurate. This document should be formal and objective. It will contain some details that are privy to only the author, but one has to present substantive proof to support the claims.
There are a few rules that are to be followed while writing.
Follow the chronology of events; it gets confusing for the reader when one jumps backward and forwards in time.
Tell the story in the first person so that the reader gets a feeling that he is hearing it from you.
Define the characters that you are using in it; don't parachute in people suddenly.
Give details about the places you are mentioning and declare them clearly.
Mention dates to give a setting and mood around your story.
Give subtle details about weather, nature, spatial setting, placement of things, etc. around you to lend a touch of reality to it.
We know it is a long process, and it's hard to remember each and every step. Need more assistance on how to write a autobiography? Take the help of experts available with us.
Why Is Instant Assignment Help the First Choice for Autobiography Writing?
Most people have countless interesting stories to tell, but they lack expertise in writing and storytelling. This deprives the bookstands of some engaging content and inspiring experiences. Instant Assignment Help provides assistance to students in writing an autobiography for their college assignments so that some of these stories can be told. The experienced assignment writing service providers offer work that is fluent in its storytelling, with impeccable writing skills. Here are some salient features:
Unlimited Revisions
Unbelievable Deals
Personal Data Protection
24*7 Customer Helpline
Quality Guaranteed
Competition Beating Delivery Time
The wait is over' it's time for your story to be told. Avail our services via our website or mobile application and grab the latest offers.
You May Also Like:How Time Blocking Your Schedule Can Help in Productive Assignment Writing?