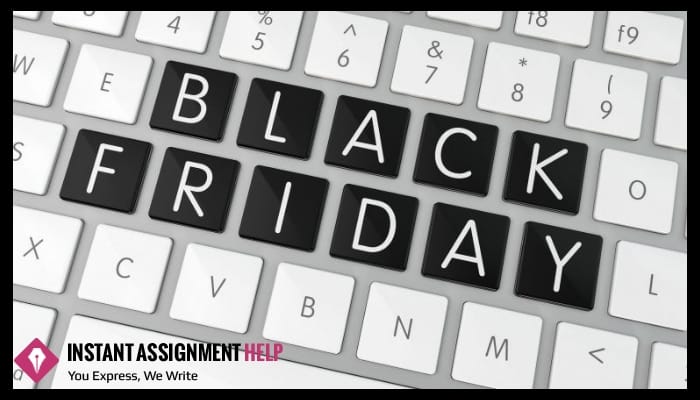 Aha....
The most awaited holiday of the year is on its way. With the festival like mood, comes the best part "Shopping". You are all set to enjoy your thanksgiving with your family and enjoy the four days without stress and NO classes.
With Black Friday on its way, just get along with the Thanksgiving, and regular weekend the excitement in people especially students can not be stored.
The day marks the beginning of the Christmas season, a month full of celebrations, discounts, and shopping. Its name has been derived from several incidences, but ultimately leads to the same motive of fulfilling shopping.
However, your professors are all set to sustain your excitement by spoiling it with the load of assignments. A long weekend without homework would make your professors too good to handle. (Professors can never be that good)
So, the online assignment help is at your service to let you enjoy your weekend without letting the assignments spoil your happy mood. It is important to make sure that you avail our special "BLACK FRIDAY DEALS" that can always make you go la la about your choice of service.
Discounts That We Offer On Our Assignment Writing Services
Discounts are never ending dessert one can get. It seems quite synonymous to festivity and celebrations. To add icing on the cake of your celebrations, our online assignment help has come up with various offers and discounts. So this festive season, just SAVE and SHOP.
Referral Code
Sharing is caring. Show the care to your friends by helping them deal with the stress of assignment writing. Share the referral codes from our website with your friends and earn referral points for further assignments. We believe in building a long-lasting relationship with our clients. You must have been sharing referral codes for several apps and games, now, lets do it for the online assignment help app and let your friends avail our services too. Help your friends rise above the worries of the assignments and enjoy their holidays too.
Seasonal Discount
Festivals are all about get together, shopping, and celebrations. It's all about the enjoyment and the euphoria around. With shopping and discount in the air, it becomes mandatory to avail the opportunity that can make you happy. The money saved from the offers on your assignments is the pocket money you will gift yourself this Black Friday.
We offer the best deals in the country to ensure your weekend mood is not spoilt by the petty assignments that your professors have assigned you.
Black Friday Discounts
With the clock adding excitement and happiness with every second, it is moving Black Friday down the lane. Get flat 30% off on Black Friday for all the assignments you may be ordering now. You may also avail extra 5% off while ordering through our app.
Let your thanksgiving be as special as it was meant to be and not being spent on some assignment writing task by your professors.
Money Back Guarantee
We value our customers a lot. To ensure you have the trust running, we do have money back guarantee too. (You would never need to avail this). In case of extreme dissatisfaction or a few other issues, we promise to refund your amount. Please make sure to register your complain within 7 days of receiving the order.
Bonus
Along with so many discounts and offers in your bag, you can get a few more added advantages from us. We offer the best quality assignment papers in stringent deadline. We understand that you need unique and creative documents to ace your task.
Let our assignment writers get the task done for you without much troubles while you celebrate your Black Friday buying stuffs for your friends and family.
Do not let the assignments assigned from your professors spoil the festive mood. Four days, family, fun, and partying. Let us worry about your assignment writing task and the deadlines. We make sure students face no difficulty while working on their plans and assignments together.
Reach us through our website www.instantassignmenthelp.com or download our app.