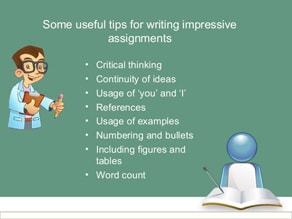 Top Tips of 2015 for Writing an Effective & Impressive Assignment
Writing an assignment can turn out to be a really hot mess. Students from all around the world experience problems when it comes to write an assignment. As assignment writing is a necessary part of the academic curriculum, it becomes very important to complete the task and submit it on time to achieve better grades.
However, most of the candidates in a hurry, write down everything they find without even thinking that the matter that they are including in the assignment is relevant or not. Irrelevant assignments not only come with low grades, but they can also come with an F.
Thus, students seek help from the Assignment Writing Services so they can get a paper which is professional & excellent. Students can opt for help from the services if they don't get it from anyone else nearby them.
If you are seeking assignment help, then read tips first that have been provided below for your help.
A reputable assignment writing service
Read your title thoroughly. It will help you in forming a brief idea about your assignment.
Gather right & relevant information from the reliable sources. Accurate information will not only impress your professor, but also will provide you knowledge about the subject-matter.
Form a rough draft of your assignment and read it. See if the idea that you are trying to convey in your assignment is actually there or not.
If you feel satisfied with your draft, then allow your friends to read it. Remember feedback is really important.
Do an in-depth research about your title. If you think that the information is is important for your assignment then write it down.
Use professional fonts like Georgia, Times New Roman, etc.
Keep the font size to 12. Though, you can increase it if the assignment demands.
If you are presenting any examples, make sure that they all are relevant & appropriate.
If you have lengthy data and need to present in your assignment, then you need to present it in an interesting way. Use graphs, diagrams, charts, table of figures, etc. and make it interesting.
Use a significant pattern in each paragraph. It will provide a structure for your assignment.
If you know a professional format then use it in your assignment. It will give a more professional look.
After finishing your assignment, you need to proofread & edit it well.
Proofreading & editing is a not a big task as it can be done very well with a fresh mind. Leave your assignment for a day or two and then proofread your paper thoroughly. This will help you in picking up mistakes.
Mark every error you find in your assignment and edit it later on.
Read your assignment out loud, so you can find the errors and the sentences which doesn't make any sense.
These were some of the helpful yet effective tips which can not only be used in writing an impressive assignment but also can be used in making an assignment professional & outstanding.
You may also like
Write Assignment Outstanding
Why To Opt Australia For Future Study?
WONDERING WHAT COULD BE THE TRICKS TO EARN BETTER GRADES?
TIPS TO SCORE BETTER GRADES BY WRITING AN EFFECTIVE ASSIGNMENT
Save Time With Finance Assignment Help
Professional Assignment Writers For Drafting Your Academic Paper