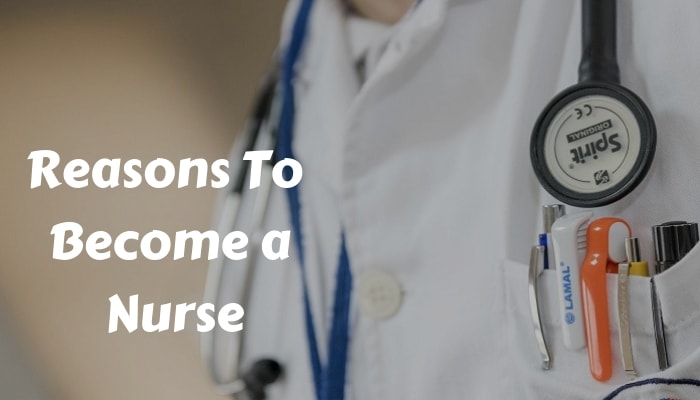 Choosing the right career option is not a child's play. This decision has to be made keeping in mind a number of aspects. Well, talking about nursing, it's a great career line for people looking for a promising future.
Nursing is a noble job. It is all about taking care of people. It concerns with helping those who need medical attention and aid. It has to be one of the most self-satisfying jobs ever as there is no other better joy in this world than the joy of giving. Nursing helps you to serve the needy and give all your care and hard-work to them for their well-being. There's certainly no reason to not work as a nurse as everything that this job offers is constructive. Nevertheless, below are a few reasons which would perhaps convince you to choose nursing as a career.
Great Demand: Humans need medical attention every once in a while in their lives. Taking into account the increasing population, there is no chance that the demand for nurses is ever going to decrease. This field has innumerable opportunities and has huge personnel demand to cater to the rising population. Nurses are needed in almost every organization; be it a college, school or university. According to some researches, there is a great demand of nursing workforce for coming years making it a fruitful career option for millions of people.
Flexible Work: The work approach in the nursing industry is pretty flexible. People can work as per their own convenience as there are 12 hours shifts which run throughout the day. This enables people to maintain a balance between their professional and personal life. In the nursing industry, people do not have to work on a 9 to 5 basis everyday in a locked cabin. They can work however they want. If you want to work as a part-time employee, a full-time employee, want to work 3 days in a row or for full week, its totally up to you.
Rewarding Occupation: Nursing is surely a rewarding occupation considering that an average pay of $50,000 is given to nurses. They are paid up to $90,000 if they have the required experience and skills. This field ensures a stable financial future due to the never-ending requirements for nursing staff.
Freedom: There are several departments in a hospital which are created to take care of differently disabled patients in an organized manner. Nurses have the option to work in any department that they wish to. According to their own interests and specialities, they can choose the department which they are the most comfortable working in.
Dynamic sphere: Everyday isn't the same for nurses. Their work isn't based on some hard and fast rules or guidelines which defines their daily tasks. Nursing comes with a dynamic work structure as nurses have to deal with different patients everyday with different sicknesses and problems which brings new challenges for them everyday. This job is suitable for individuals who seek to work in a dynamic environment and do not want a boring job.
Nurses make a difference: Inessential to state, the role of a nurse in a hospital is indispensable. They do several tasks which are necessary in order to take care of the patients. They help patients, they take care of them everyday, and they also motivate them to get better which bring a huge impact on a patient's health throughout the healing process.
Stable Industry: The nursing industry is pretty attractive in terms of the stability offered. The nursing aspirants can expect a stable future here as the need of the nurse workforce is never coming to an end. People are going to take medical services in the future which consequently will generate the demand of nurses and hence, there are ample of opportunities for nursing aspirants in the future.
Job Satisfaction: Serving the needy and taking care of someone is a fulfilling feeling itself. Nurses take care of the patient who comes to the hospital seeking medical help and they send him home in a relatively better state than he was in before which bring a sense of contentment in them. Nursing undoubtedly is a great career option for those who love to work with people and are happy to help them. It is an outstanding job for those who want to impact somebody's life in a positive way and help them live a healthy life.
Growth Opportunities: This job offers you various growth opportunities as your experience counts here and you can move to greater and more modern workplaces that offer better packages. Once you gain some experience, you eventually prepare yourself to upgrade your domain of work which, as a result, exposes you to better opportunities.
As convincing as these points are, we hope you consider nursing as a career option. The Nursing Industry surely has amazing growth prospects which can prove to be extremely beneficial to the ones seeking to become well-heeled in the coming years. Moreover, if you have chosen your career line in the same industry, then you must be having a lot to study and learn. To serve the patients, there is immense hard-work that a nursing student has to do while his pursuance.
The lectures, assignments, and studying together can get too much at times which create a mess. Considering the same and having you to focus on your learning process, we have undertaken the task to make your assignments for you. You heard it right! We will make your nursing assignment an epitome! We provide nursing assignment help at affordable prices so that the pressure of making an impeccable assignment and submitting it on time does not bother you. If you have any queries, feel free to contact us as our customer care executives are available 24*7 for your assistance.