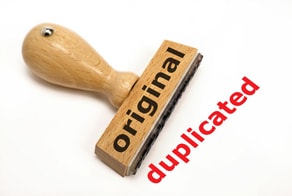 University students often score poorly because of plagiarism in their assignments. Well, the main reason behind this is the lack of knowledge about plagiarism and its types. The final documents submitted for evaluation are not just checked for one type; they are checked for all kinds of duplication. If you too are the one who scores less, and cannot figure out the reasons, then most probably the reason behind is 'plagiarism'.
Usually, students are aware of only one or two kinds of plagiarism, but the assignments and dissertations they submit follow a different course for grading. Not one or two, all types of errors and plagiarism are checked before assigning final grades. If you are unaware of all the types of duplicate content, then read this write-up to upgrade your knowledge. Here goes the list:
Clone
When an individual submits someone else's work which is copied word-for- word, then it is termed as a clone. This is the most dangerous type of plagiarism because even a basic duplicate content detection tool can identify this. Clone in your work can bring down your grades considerably.
Hybrid
This is another most common type identified. In this, students copy the cited contents of other scholars without proper citation. This can subsequently lead to worst outcomes because if the scholar gets to know about the copied work, he can sue the student for not acknowledging him.
Mashup
This is sometimes termed as the 'smart work' by students. The content is totally plagiarised, the sole difference in clone and mashup is the pattern. In a clone, student copies word-for-word from a single document, but in mashup, he takes multiple sources in use.
Ctrl-C
Another case of duplicate content in assignments is 'Ctrl-C'. In this, student copies a major section of the document claiming it as his work. Since the copied content is placed directly without alterations, it can be easily identified.
Replace
This type of plagiarism occurs when a student changes the keywords and phrases but retains the essential content and claims it to be original. This can be detected at the drop of a hat by professionals.
404 Error
404 Error is basically an attempt to misguide the university professors. This practice is in trend because no one double checks if the citation is mentioned. Taking advantage of this, students include false citations, inaccurate and non-existent facts about sources.
Aggregator
A document charged for including 'aggregator' type in it usually has a proper citation, but contains zero original work. Smart work indeed!
Well, submitting documents having such errors create a bad impression which can affect your future scores as well. To eliminate such possibilities, you can take help from online assignment services. Instant Assignment Help is the best one to take assistance from. Our in-house expert academic writers have immense experience and will provide you with a document that has 'zero plagiarism'. This will eventually become the key factor responsible for your topmost grades.
Our team of experts specialise in drafting every document from scratch to offer the best online assignment help to the college-goers. Some of the guarantees we provide are:
Fastest delivery
100% confidentiality
100% plagiarism-free academic paper
Round the clock assistance by customer support team and much more.
Avail the best discount offers by downloading our user-friendly app for the same from Google Play Store now!
You may also like
Place Your Assignment Order and Enjoy Halloween Bonanza Offer of 35% Off
6 Tips to Prepare Well for Telephonic Interview
Personality Traits You Should Possess to be a Great Entrepreneur
4 Ways With Which You Can Achieve a Charismatic Personality
How Performance Management Process Can Assist You in Writing Assignments?