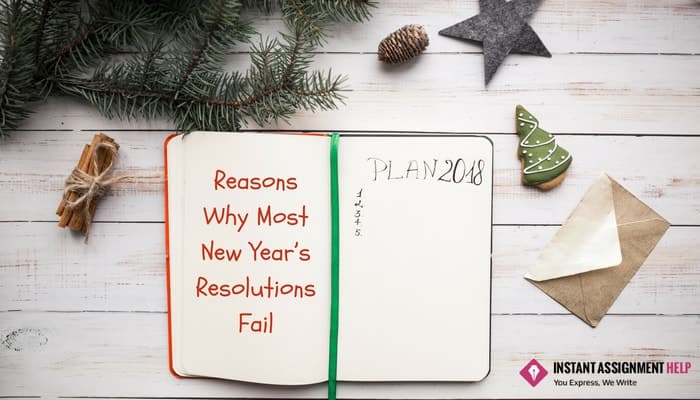 As this year is about to end, most of the students are thinking about the resolutions that they will make and would never let them fail, unlike previous year. Don't you think this has become some sort of tradition that every year people make a commitment to be a better person in the beginning but as the year ends, they fail in it? After that, they again decide something new to resolve or repeat the old one just to be unsuccessful again. According to the research, approx ninety percent of people fail in keeping their resolutions every year. Are you also part of this? If yes, then just think of the reasons behind it. Can't find any? Well, there are many points which can be listed under this heading, and we are providing you some of the major ones.
Take a look:
1. Lack of commitment
When you decide to change or start something, most of the times you don't have enough motivation behind it. You are not emotionally involved, and there is lack of commitment, so as January passes you are not anymore interested in the task and get distracted. Let's say, you plan to join a gym, but it takes a lot of determination to follow the diet and exercise regularly. You can't do it once a week or decide to quit because you were too lazy to follow the regime. So, it requires complete conviction to achieve a goal.
2. Habitual to who you are
If you ever decide to change something that you have always believed in or that is your usual habit, then it might be difficult for you to do so. When you are asked to accept or do something that you haven't done in your life, then it's hard to contradict your own thoughts and beliefs. Similarly, if you are addicted to smoking or drinking, then it's not possible to get rid of them in an instant. If you really want to resolve such thing, then first you need to accept it and gradually work towards the change.
3. You Do it for others
There are times when you make a resolution because of peer pressure. In such case, you might enjoy it for a month or two, but later you will find it hard to carry on and will give up in the end. You will never be able to adapt their lifestyle and finally have to quit. So, if you ever decide for a change, then do it for yourself and not to please others.
4. You always procrastinate
Do you always say, 'I don't have time' or ' I'll do it later'? If yes, then you will definitely be repeating the same with your resolution. You had an entire year to change things or start something new, but you postponed it every day. So what is so special with 1st January? Maybe New Year, so new beginning and you might be able to do it for a few days but maintaining the same for a year is a difficult task.
5. Unrealistic resolutions
You might decide to achieve six or seven goals in a year, or fifteen to twenty abroad trips you want to make. But these plans are not practically possible to accomplish. So, before making any commitments, you should better think if it is viable or not. There are many aspects that you have to think about before planning a holiday like classes, exams, assignments, etc.
6. A year is a long time
While you resolve something in advance for a whole year, always remember that you can never be sure about future. There is a possibility that situations may change which can further make it difficult for you to achieve your target. Also, if you promise that you will go to gym, spend less money, worry less, then you can follow them for a particular time but after that, you might not be able to continue it for 12 months.
So,next time you decide to make a resolution always keep these factors in mind and commit something which you know you can accomplish in a year. Do not try too hard or rush into a decision, be logical and practical instead.
If you have resolved to submit all your academic work on time but find it difficult to achieve, then relax as Instant Assignment Help is here to assist you with your commitment with its online assignment writing service. Our professionals are the best in their fields and have proved to be a great help to the students across the UK, USA, Canada, Australia, and many more. Contact us now to avail festive offers.