A Thorough Discussion on the Top Architecture Universities!
Imagine your dream to be true of studying abroad and pursuing the subject of your choice.
Is pursuing architecture your dream? If yes, then this blog is a treasure for your unanswered questions! Detailed information on the top universities is mentioned here to help you ease the selection process.
As several aspects are combined to describe the success rate of your educational journey. The selection of the best architecture universities in the UK and the procedure for admission are where students face the most challenges. Also, flying abroad to a different nation is a big thing, especially if a scholar is a newbie and must know the favorable factors of moving to the UK for architectural studies. Let us know why.
Why Choose UK for Architectural Studies?
Will it be worth investing money in the UK, or any other place would be a better idea?
Such thoughts are evident, and taking a rational decision lies in your hand. So to help you out, here is the list of factors that declare why studying in the UK will be an intelligent choice.
Prime Education
The motive of the UK is to make each child capable. The country aims for every pupil's quality education. Whether it is elementary education or a post-graduation degree, they hire experienced teachers possessing expertise in their field. They look for faculty who can imbibe valuable traits and nurture the child in the right direction.
High Standard of Living
International student moves to another country to improve their standard of living. The rent, food, and transportation are reasonable compared to other countries. You can save your money and invest it for educational purposes.
Unique Culture
In the UK, you will find people from across the globe. You will find a diversified culture in terms of sports, restaurants, nightlife, and shopping. It is a blend of distinctive lifestyles. No matter which country you belong to, it will take less time to become habitual, and you will find yourself exploring new adventures. Balance is the key between joy and academics; if instability is adversely affecting your scholarly life, seek assignment help.
Financial Independence
Isn't working in addition to learning a good choice? Yes, there are open doors to gain experience in corporate or any other sector. It means the best architectural universities in the UK allow you to practice your learnings. From planning a trip to partying, you can survive on your own. There is no need to ask your parents for extra money as you can work 20 hours per week with a study visa. But what about working on academic papers? Does it give you enough time along with your work? If not, then seek coursework help for better guidance.

Language Command
English is accepted worldwide and binds nations together. There is a no better option to improve your vocabulary and fluency than the country of language origin. International students fear applying abroad because they are not well-versed in the English guidelines. You cannot communicate until and unless you attempt. Learning from architecture top universities UK can be a path to conquer the uneasiness with the language.
We hope that the aforestated pointers convinced you why choosing the UK for your undergraduate or graduate architect degree can be a wise decision. Now that you are convinced about the UK, you should know the whole procedure. Nothing comes in handy, especially when you have to shift to a new country. The admission process to the best architecture universities in the UK is complex, and you should know every bit of it to avoid any inconvenience in the future. How about we assist you with the step-by-step process to enroll in architectural educational institutes? Let us dive deep into the topic to get your doubts clarified.
Procedure to Follow for Admission to Best Universities in the UK
Opting for an international career is not a straightforward process. There is a loop of steps you need to follow to arrive at a meaningful conclusion. We know the journey is not simple, and you get confused about how to start. Therefore we backed you up with the beginning to ease the admission process to the architecture universities in the UK.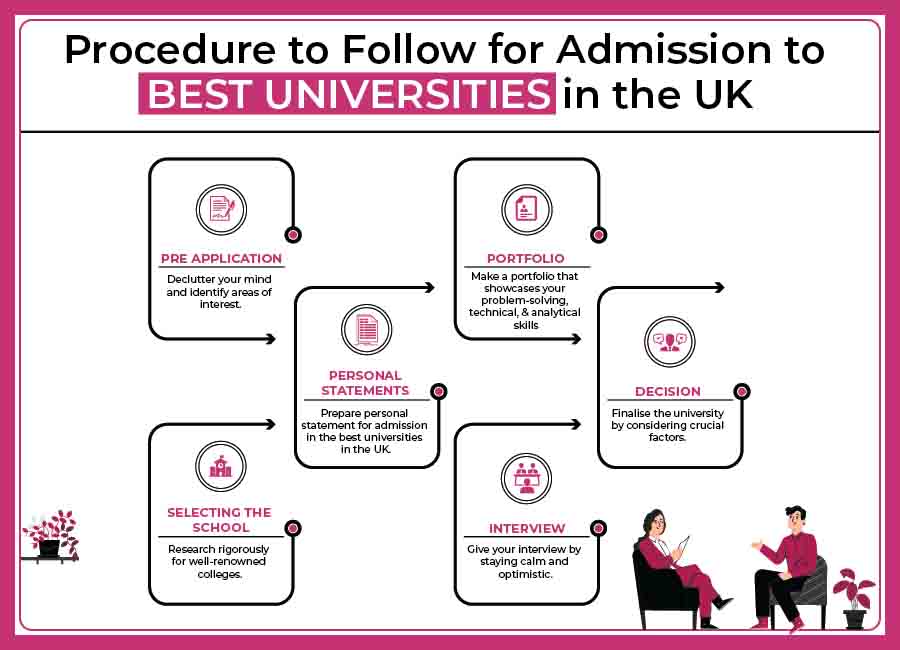 Step 1: Pre Application
According to RIBA, it takes nearly seven years to become a licensed architect. The foremost step would be to declutter your mind and find your areas of interest before taking the final decision. Ask necessary questions to yourself whether the degree program I am opting for has scope for me in the future or not. Will I be passionate or enthusiastic in the long run? Take a pen and paper and prioritise the subject in which you believe you will have a bright future!
Step2: Selecting the School
Once you have decided that architecture is the course you want to pursue in the future, it is time to search for relevant universities. Research rigorously and find colleges that are well-renowned for exceptional teaching. One point to note here is that you should pick educational institutions that provide the courses you want to take. No matter which university you are applying to, apply through UCAS- University and Colleges Admissions Service. Other than UCAS, there are some colleges that have their own portals via which you can directly apply. Architecture top universities UK will require you to have knowledge of the subjects of English, Arts, and Mathematics. You need to pass and score from a range of CCD to AAB. In addition, you typically need five GCSEs with a grade of C or above, including English and maths.
Step 3: Personal Statements
What are personal statements? It is a crucial part of your application. It is a piece of writing that needs to submit to architecture universities. It is a statement comprising the details regarding why you are interested in architecture or why the five universities should accept you as a candidate. It should indicate your passion for the subject. No scope for errors is entertained in such scenarios. To avoid such mistakes, you can use essay typer tool. Guidance by the experts lets you know the crucial areas for improvement. You can encompass books you have read, co-curricular activities, and soft and hard skills you gained. Attempt to make it appealing and attention-grabbing. The paper should be flawless and should have no scope for errors. You must read and edit the document numerous times for the best results.
Step 4: Portfolio
A portfolio is the representation of your knowledge. It is a portrayal of your thought process through which the college faculty wants to know the concept or idea behind your designs. It should exhibit that you have a keen interest in architecture. The interviewer will judge you on the basis of your work. Make it interactive and take a topic that can interest the interrogator. Your chances of admission are high if you show your problem-solving, technical, and analytical skills.
Step 5: Interview
After you have passed the drawing task and impressed the faculty with your writing, it is time to physically present yourself. The concerned inquisitors will ask you a relevant question related to your project. They will judge you on how you respond to their question. Are you confident enough or give the correct answers while questioning? The tip here would be to rehearse beforehand to stay calm and optimistic.
Step 6: Decision
The next step after giving the interview is to sort out the options you have. After the declaration of the results, it is now time to finalise. You must have applied for a maximum of five best architecture universities in the UK. Shortlist- The key to taking an intelligent decision is by jotting down the benefits of one educational institute over another. Prior to making your ultimate choice, you should consider factors like location, tuition costs, scholarships available, career options, and reputation.
We hope you to get acquainted with what it takes to fly overseas and the procedure to follow to take admission to your dream school. Now that basics are apparent, how about we move ahead?
Have a look at the best architecture universities in the UK.
Let us know the names of educational institutes that are ruling the country since time immemorial.
Top 3 Architecture Universities in the UK| An Absolute Guide
Here are the architecture universities ruling the country for ages:
University of Cambridge: Rank 1
The University of Cambridge, established in 1209, is the fourth-oldest university in the world. Cambridge is a middle ground between the scholarly world and business and is globally famous for innovation. Consistently ranked as the top architecture school, Cambridge's Department of Architecture is an exciting place to upskill yourself. The courses emphasise creativity and curiosity with a solid intellectual foundation.
Under-Graduate
BA(Hons)
The BA (Hons) undergraduate course gives freedom from ARB/RIBA Part 1, which is the initial step to qualifying as an architect. It requires three years for completion.
Written paper to pass in year 1
Introduction to architectural history before 1800

Fundamental principles of environmental design

Fundamental principles of construction

Principles of environmental design

Introduction to architectural history after 1800

Fundamental principles of structural design
Written paper to pass year 2
Studies in history and theories of design and architecture

Principles of environmental design

Principles of construction

Principles of structural design
Written paper to pass year 3
Advanced studies in historical aspects of architecture

Advanced studies in construction technology and environmental design related to case studies.

Architectural engineering

Management and Law
Post-Graduate
Masters of Architecture( March) Degree (ARB/RIBA Part2)
The course is unique among MArch programmes and allows students to combine research and design.
Postgraduate Certificate in Professional Practice in Architecture- ARB/RIBA Part3
The course's goal is to prepare you so that you can successfully present yourself in front of examiners and can receive an endorsement to practise as an architect.
MSt Architecture Apprenticeship
The MSt Architecture Apprenticeship provides an alternative to the traditional route of becoming an architect. You must complete ARB/RIBA Part I to pursue this course.
MPhil in Architecture and Urban Studies
It is a programme for advanced study to provide you with a deeper understanding of modern and contemporary architecture.
As the university ranks number one, it is associated with renowned personalities such as Sir Isaac Newton, Alan Turing, Francis Bacon, William Harvey, Joseph Stiglitz
The admission area qualifies with an acceptance rate of 11%.
University of Bath: Rank 2
Established in 1966, the University of Bath aims to drive excellence and build an outstanding community. It tops the ranking for satisfying students and providing them with employment. The courses offered are by industrial needs. It is one step forward in research to provide you with better career opportunities.
Under-Graduate
Architecture MArch (Hons)
The two-year course meets ARB/RIBA requirements for part 2 and gives you enhanced architectural knowledge to ease the process of creating a complex design.
Architecture BSc (Hons)
The four years course allows you to indulge yourself in the world of architecture via studio-based learning and practical experience.
Structural and Architectural Engineering BEng (Hons)
This four-year course provides an integrated approach to artistic engineers who want to learn how to design buildings. With progress, graduates will see a difference in thoughts and communication skills that will undoubtedly help to establish a responsible approach toward future engineering challenges.
Structural and Architectural Engineering MEng (Hons)
The four-year program assimilates architectural and environmental principles giving you the knowledge to develop creative designs.
Post-Graduate
Architectural Engineering: Environmental Design
This one-year course helps you gain the knowledge to become an environmental design specialist. It helps to create buildings with a combination of sustainability and a comfortable environment.
Professional Practice PG Cert
It is a one-year part-time postgraduate course. This course is the final ladder to becoming a Chartered Architect in the UK. The intensive and in-depth study allows you to step into a professional career.
Conservation of Historic Building MSc
This one-year course gives knowledge on how to design and govern conservation buildings. With the aid of experts, it focuses on teaching the aspects of how to preserve historic monuments and maintain heritage.
Bath, the name is enough to describe the quality of education just like the names Tony Kendle, Dr David Skrbina, Ash Atalla, Mark Hawkins, and Natalie Down.
The admission criteria are nominal with a rate of 10-20% for undergraduate and postgraduate students.
University College London: Rank 3
Founded in 1826, University College London is a fine example of innovation and brilliance. With faculty worldwide, it is a place to conquer the art of originality, intelligence, persuasiveness, and wit.
Under-Graduate
Architecture BSc
To help students develop an autonomous, artistic, exploratory, and rigorous approach to design, the architecture BSc program offers a broad and diversified range of experiences.
The process of discovering one's architectural vision within a dynamic and inspiring atmosphere is led by students.
Architecture MSci
Architecture MSci consolidates the evolution of architectural design skills with the understanding of the social and technological environments in which buildings are made. The program is a combination of five-year undergraduate and postgraduate degree
Architectural and Interdisciplinary Studies BSc
This ground-breaking curriculum examines architectural space from a multifaceted standpoint and investigates different methods of design. Because the degree is flexible, students can choose a course of study that suits their interests in and outside of the built environment.
Engineering and Architectural Design MEng
This four-year program has been designed closely under the supervision of industry experts to impart the essentials of architecture and engineering. It is a complete guide and prepares scholars to become industry leaders.
Post-Graduate
Architecture MArch
To promote a diverse and inclusive knowledge of architecture, this course provides cutting-edge, professional, dedicated, and creative knowledge.
Architectural Design MArch
This program focuses on architecture and design. It emphasizes the latest technology, particularly robotics.
The place is not only known for premium education but a list of favored names, Mahatma Gandhi, Christopher Nolan, Chris Martin, Rabindranath Tagore, David Attenborough, and Ricky Gervais. Alexander Fleming.
The doors of the university are open with an acceptance rate of 11%.
There you go with the list of universities to ace your career. Acquiring an international degree is not easy, but once you get acquainted with minor details, you can handle any situation efficiently.
Hopefully, the above-listed attributes clear your doubts regarding the best architecture universities in the UK. Take down the list of all details to make the right choice.
Read Also: What are the Benefits of Availing Expert Help To Do My Assignment for Me?