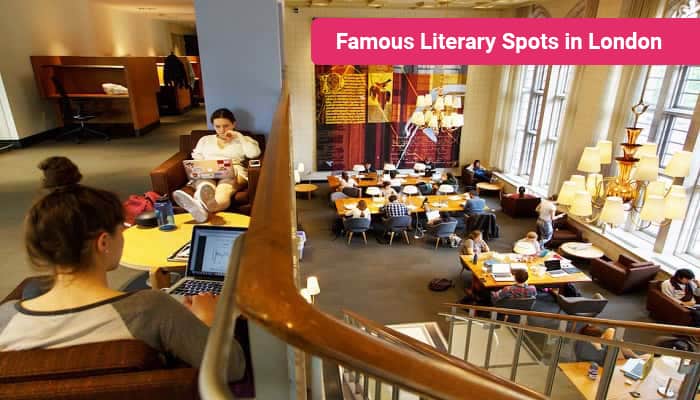 London is one of the most beautiful cities in the world. So, while planning a trip to the capital city of the UK, pubs, tourist attractions, etc., top our list of must-visit places. But, apart from all those mentioned above, it is also home to some of the best writers and their works. And, they are an indispensable part of this beautiful city. So, if books fascinate you more than booze and fictional places are ranked high in your priority list than the real ones, and you happen to be book lover, then this city has much to offer. These places will help you quench your thirst for literature. We have picked some of the best for you. Enjoy:
1) The British Library
It is a copyright library, and it has copies of every book ever published in the UK. The British Library is a vast collection of books, and you can be overwhelmed by the sheer number of them. But, incredible Sir John Ritblat gallery is something that you should not miss. Here you'll find first drafts of works by authors like James Joyce, along with all their scribbles and corrections. There are also some other historical treasures like a 600-year-old manuscript of "Sir Gawain and the Green Knight," which is one of the first illustrated works of literature in the English language, and even an original copy of the Magna Carta.
2) Platform 9 3/4
Who wouldn't have dreamt of sliding their trolley between the platform nine and ten to board Hogwarts Express while reading Harry Potter? No one. And, this little dream of yours can come true. You can visit the magical platform which is at the Kings Cross station. You might not be able to board the train to Hogwarts, but you can still pose and have some photos clicked at this iconic fictional destination to relive your childhood dream.
3) The Sherlock Holmes Museum
London is home to one of the most favorite fictional detectives in the world, and you are missing out on something extraordinary if you don't visit the Sherlock Holmes Museum in 221B Baker Street. It's a special attraction as this iconic address is very famous and is the home of the fictional detective character in Sir Arthur Conan Doyle works. You can take a tour between 9:30 am to 6 pm.
4) Libreria
This one place you should not miss out if you are a book lover. Libreria is a bookshop cum reading library where you can sit for hours and enjoy your favorite books sans coffee and WiFi. Yes, you can't have coffee, and there is no WiFi which is great because this provides you a no distraction time in which you can indeed focus on your books. Another thing that makes Libreria unique is the way books have been arranged. With their unique assembly, you are always in for a surprise.
5) Bloomsbury Square
Bloomsbury Square has been the home to many iconic authors like Virginia Woolf to E.M Froster. You can even have door to door tour of their homes. It is stunning and has acted as an inspiration to many of the finest writings in the history. And, if you are a book lover, then this place is a must visit and who knows like all these authors you might also get the inspiration to write your own bestseller.
Although London has many mesmerizing places to look at, the above-mentioned have a different charm to them. And, if you are a book lover then they might be the best destinations for you to visit. But, visiting these places needs time and a stress-free mind to enjoy them. But, it is not possible if you are a student and have pending assignments. But, don't fret, because we have experts in academic writing who provide assignment help in London. And, they will do your assignments and let you enjoy the sights of this beautiful city. Happy Reading!