After completing an undergraduate or postgraduate degree, students need a letter of reference to land a good job. It also helps to secure an internship and earn a place in a competitive program. But to make a better impression on the recipient, the reference letter must follow a specific format. As a scholar, they do not have proper knowledge of preparing in a correct manner. It is why students frequently search on google 'how to write a reference letter' efficiently.
Whether you are in college and need a letter of reference for a job or other purpose, it is crucial to know how to format it correctly. Also, knowledge of what to include in the paper is critical for students to prepare the letter more efficiently. During this period, scholars request reference letters from professors and employees on social sites. But learning about what information goes into this paper and how to organise them effectively is vital to create a better letter.
In this article, you can explore detailed information on what is a reference letter, how to write a reference letter, its types, a sample of reference letters, and most importantly how a student can write a reference letter.
What Is a Reference Letter?
A reference letter is also called a personal letter or a recommendation letter. It is a positive favour of skills and attributes of a person. The letter can be written by who is familiar with the related person. Also, the writer must know about the person's achievements, character, and work. It is basically needed to apply for jobs, internships, better positions and many more purposes.
This letter also explains why the recipient should select the candidate for the position. Also, it clarifies what quality of the person qualifies for the opportunity to which they are applying. The reference letters may be requested by the companies or organizations and presented by the job candidates.
Now after learning about what is a reference letter, the next you can know about the type of reference letter in the below given section.
Get Your Reference Letter Now!
What Are the Types of Reference Letters?
There are three types of reference or recommendation letters namely academic, professional, and character reference letters. You can know about each in detail in the following section:
Academic Reference Letter
Academic letters are used by students to apply for university internships and other programs. This reference letter writes by a professor or a teacher. It discusses the educational background and achievements of the candidate.
Professional /Employment Reference Letter
The professional letter is typically submitted by the job candidates to provide information about their history, work ethics, performance, and achievements. It is usually done by an experienced professor or supervisor in a related job. You can get any type of writing assistance from our assignment help experts.
Personal Reference Letter
This type of letter discusses the personal attributes of a different situation. The concerned person shows how the reader knows them and why they apply for the job. It is completed by a family friend or well-known person of the concerned candidate.
These are the three different types of reference letter. Learning about these, you can write this letter as a student. To get more detailed information on it, you can read the below given section:
How Student Can Write a Reference Letter?
Writing a reference letter is not easy for students because it requires maintaining a professional tone and correct format. Both of these elements are helpful to develop a reliable and credible letter of reference. It must cover a page and a half which should follow a general outline that covers the necessary information about the candidate. If you are willing to write a letter, you can use the following steps to create a professional reference letter template:
1. Greet the Recipient
At the beginning of letter writing, give a salutation such as dear or you can give a good gesture. If you know the name of the recipient then address them by Mr or Mrs with the last name. In another case, when you do not know their name, use the general term like hiring manager.
2. Ensure to Build a Relationship with the Reader
In the first part of the letter, you can introduce yourself and how you know the candidate. Also, include how long you adequate them and what makes you qualified to write a letter. You can write the company name, school or institution name from where you know the person. It helps to build a relationship with the reader and write a better letter. Taking the essay typer tool to complete the work quickly, which is valuable to complete the sample.
3. Explain How You Are Perfect for the Role
In the following section, you can note why you are the perfect candidate for the role. It is vital to add the detail of your best quality or skills by giving a specific example of each. If possible, try to use the instance date when you achieved the skills. In addition, you can support your claims by providing relevant data on the success. Or getting our essay writing services UK can help to write a reference letter efficiently.
4. Include the Contact Information
End the body of the letter with a short closing note that confirms your support skills and qualities that inform the reader clearly. Also adding the contact number is vital, so they can reach out if they have other questions. Also, including contact information such as email address is a plus point.
5. End with a Signature
If you are writing a reference letter template in any manner such as to email or physical use, end the writing with your name and digital signature. Also include the contact information such as phone number or email address, so they can give back a response. On the other hand, adding the job title and work address is a must in a credit reference letter.
Whenever a student thinks about 'how to write a reference letter,' these points can be helpful for writing a credible paper. Even if you are unsure of properly writing, the given below section provides you with some samples which clear your queries.
Sample of Reference Letter for Students
Here is a sample of reference letter to help students to write correctly. But taking the help of experts can assist them to learn the basics of reference letter crafting: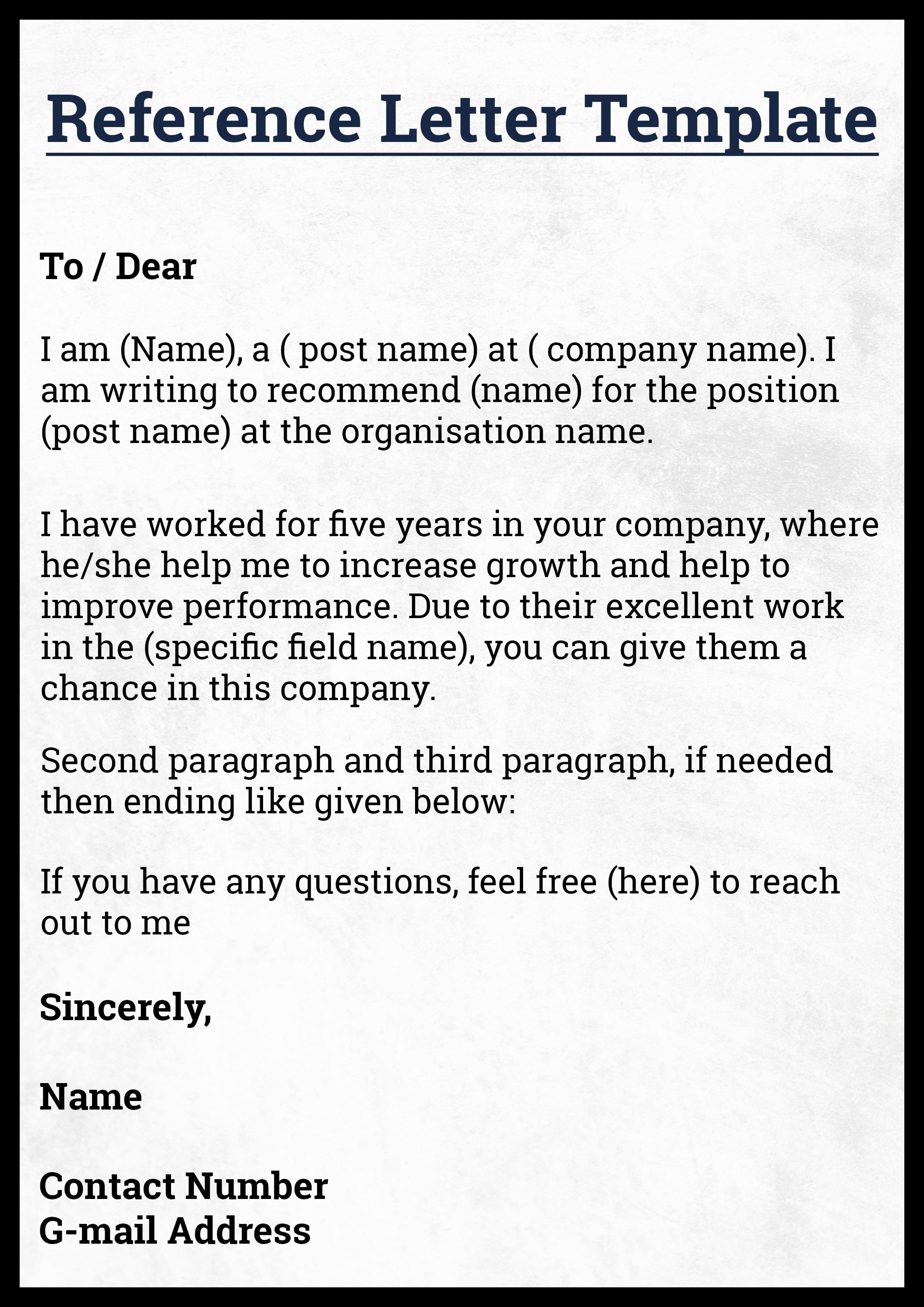 It is a sample of reference letter which you can use for writing a professional reference letter in order to get a piece of advice. However, if you still do not feel about writing in the correct way, then hiring our assignment writing expert is beneficial for you. You can check the below given paragraph to know how instantassignmenthelp is valuable to write a reference letter.
Grab Your Reference Letter Upto 50% Off
Still Unsure of Writing, See How Instant Assignment Help Can Assist You!
Students' hectic schedules and lack of knowledge do not give chance to write a reference letter. Also, some scholars do not know this process and search for how to write a reference letter. But we understand the problem of all scholars. So do not worry because instantassignmenthelp.com is here to assist you.
We have numerous subject matter experts who have expertise in writing reference letters. We can help students to complete all university tasks. Asking our professionals can help you with topic selection to writing a conclusion. We provide a range of solutions with our PhD experts. Why are you still thinking about how to write a reference letter? Just get our expert service to take down this hurdle out of your way. Taking help with our services can lead you to get the desired grades.