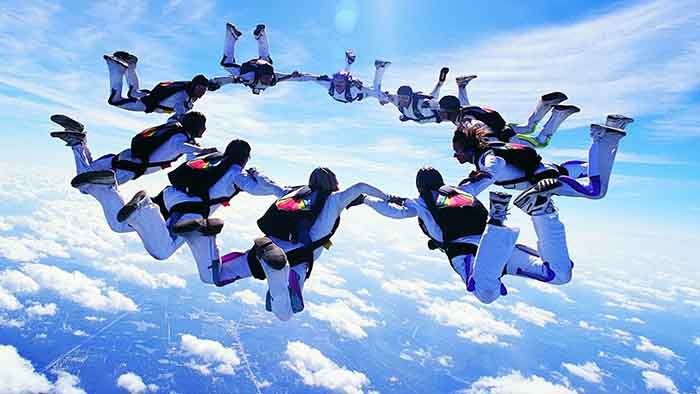 Adventure lovers always seek chances to exercise their hobby at new and thrilling destinations. What is life without a little bit of risk taking? Sports have a way of pumping up one's adrenaline.
There are some adventurous sports that will take you to whole new level. Once you have had a look at all that's in store for you, the adrenaline rush is bound to take over your fear. So get ready to plan the next trip and try some of these adventure sports that are listed in this blog. So without much ado, let's get started!
Heli-skiing
Heli-skiing is a downhill snowboarding with an amazing twist. The normal Ski lift is nothing compared to heli-skiing, as this sport is accessed by a helicopter. The skiers are taken to the mountains on-board the helicopter, and then they are unloaded with a guide. Heli-skiing is practised all over the world, Canada is the perfect place to experience this risking sport; thanks to some heli-skiing activities that happen there all the time.
Bull Riding
You have to be fearless gunslinger to be a great bull rider. This dangerous sport requires staying on top of the bull while this large animal tries to throw you off. According to the American tradition, the rider needs to stay on the bull for a complete 8 seconds. You can also go for a far less risky sport which is mechanic bull riding that is available in various places around the world.
Micro-Flying
Flying in a one-seater or a two-seater has its thrill. Microlight flying involves piloting a lightweight aircraft. No wonder that this sport is quite a popular one. The season for micro flying is from October to March, it is very popular in India and the best sites are Mysore (old airport), Jakkur (Bangalore) and Tambaram (Chennai).
Wing-suit Flying
Imagine flying off like a superhero. Wing-suit flying entails jumping off a perch and gliding down to the ground while wearing a wing-suit. These suits have an estimated glide ratio of 2.5 meters for every meter of descent. At least 200 skydivers are allowed to try this sport. It is that dangerous.
Kite Surfing
An enormous combination of water boarding and paragliding, kite surfing demands the surfer moving through the waves and driving himself forward with a controllable power kite. The surfer stands on the kite-board that is alike to a surfboard, which can be with or without any foot straps.
High-lining
Have you seen the tightrope act in the circus? Some clown will cross a high and tightly taut wire by using a balancing pole with a net below to catch him in case he slips. In high-lining, the wire is also located high up in the air. But that is where the similarity ends, and a twist begins, as in high-lining, there is no balancing pole, no net to catch you in case you fall, and the wire is not stabilised and taut. Crossing a slack wire is unbelievably more difficult than a tightly wound one, and combining it with the thought of the absence of a safety net, the danger level is increased exponentially.
Sky-Diving
The sport of jumping from an aeroplane at a moderate or high altitude and free-falling by using one's body to control direction or movements before opening one's parachute. Sky diving is one activity that is on everyone's to-do list. The thrill of jumping off a plane at 10,000 feet can be compared to nothing else in this world!
Cave Diving
It includes diving into underwater caves, and that is where the danger lies. If in case your equipment fails, the cave makes it too hard to make a quick scramble to the surface. Current in underwater caves is also notoriously incalculable. Visibility is also a issue because any wrong move will blend up sediments and cloud the view. This adventure activity is worth taking the risk.
So if you are planning to go on a vacation, then you must include these adventure sports in your journey, make some remarkable memories and let us handle all your academic load. We, at Instant Assignment Help, offer the best assignment writing services from the experienced academic writers.