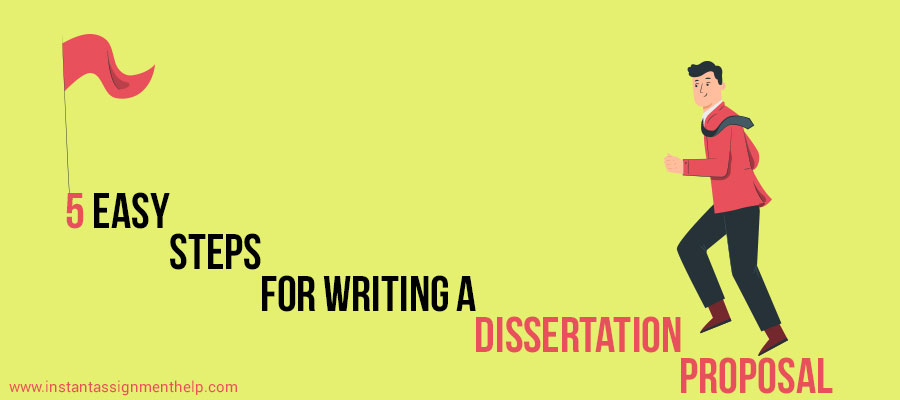 Writing a dissertation proposal is must because it is the first step that students take towards drafting their final dissertation. Students should understand that their proposal must possess uniqueness and present the ways to proceed further after completing every crucial section. If they fail to make their proposal unique, there will be a high chance of facing rejection from the dissertation committee. Thus, it becomes important to pay the utmost dedication while writing a dissertation proposal. It states the quality of your draft, which is an essential factor on which the dissertation committee takes its final decision.
If you lack knowledge of the ways or steps involved in preparing an eye-catchy proposal, take dissertation help from Instant Assignment Help experts at any hour of the day. In this blog, our writers have explained every basic and major detail about the proposal. Reading it thoroughly will guide you to easily prepare the dissertation proposal. So, let's get started by simply understanding what a dissertation proposal is all about and what are a few things you need to take into consideration while drafting the proposal
Here we go.....
What Is a Dissertation Proposal?
The dissertation proposal is 500-1000 word-long and consists information about eight different chapters of the dissertation. It should be unique and contain every major information that you are planning to include in your draft. You have to submit this document in front of your professor or dissertation committee for approval to initiate your dissertation.
Now, after knowing what a dissertation proposal is, you need to gain knowledge of a few things that are important while writing it. If you lack knowledge of it, don't panic. The best writers of Instant Assignment Help have shared the details in the succeeding section.
What You Need to Take Care of While Writing a Dissertation Proposal?
Preparing a dissertation proposal is easy until you know the things that you need to take care of while writing. But what if you don't? Sounds scary? Don't be scared. We have got the right solution. It just you have to take a look at the succeeding section of the blog. Our writers have discussed those things pretty well.
1. Length
If you are assigned with an academic task of writing the dissertation, you must know that there are many types of dissertation which are written with different purposes. If we name a few types of dissertation, they will be:
Case Study Dissertation
Scientific Research Dissertation
System Development Dissertation
It is quite evident that the length of each type of dissertation varies from that of another. Usually, the dissertation committee expects students to at least submit 20-page long proposal. However, it may vary according to the type and topic and may extend to the length of 30 - 50 pages.
2. Style
Every student has his own style or way of writing, which can never be changed or molded according to the requirement. But, there are a few things that determine the writers' style, such are as follows.
Tone - You never know on what topic you have to write your dissertation. There are many instances where you have to change your usual tone from polite to arrogant. Our writers never miss a chance to initiate and maintain the consistency of a confident tone until the end of the document.
Coherence - While drafting the dissertation proposal, you need to maintain the coherence. It means you need to flow theinformation in such a manner that it compliments each other. You can attain the coherence element easily by using pronouns and short & easy to understand phrases, keeping the verb and subject together, et cetera.
3. Voice
Voice plays a significant role in classifying your proposal as the perfect one or not based on the ways you frame your sentences. You must know that there are usually two types of voices, such are as active and passive.
Active - I will draft one of the best dissertation proposals ever.
Passive - One of the best dissertation proposals will be drafted by me.
It is always recommended not to use passive voice as it alters the true meaning of the sentences.
These are the three crucial things that you need to take care of while preparing your academic proposal. According to our expert writers, having a thorough understanding of these things will let you make fewer mistakes. If you lack knowledge about the steps that can make your writing process easy, consider going through the following section of this blog.
This May Interest You: 15+ Interesting Social Work Dissertation Topics from Experts
What Are the 5 Easy Steps for High-Quality Dissertation Proposal Writing?
Step 1: Introduce the Topic
The first thing you need to do while preparing the proposal is to introduce the topic. It should state the central research question and background of the topic so that the readers can understand the central theme correctly. You must outline your research question and suggest a feasible solution to it in your dissertation proposal. Your introduction should be so impactful that the readers get the gist of it easily and get convinced to read it further.
Step 2: Write the Methodology
After introducing the topic, you must write the second chapter of the proposal that is methodology. It is the section where you need to list every method that you have used to conduct research and gather the data to include in the final draft. Sharing details about methods assures the professor that the data or information you have included in the draft is from an authentic source. You must know that the methods can either be qualitative and quantitative or primary and secondary.
Step 3: Discuss Aims & Objectives
While writing a dissertation proposal, you need discuss the aims and objectives of the work. It will require you to initially plan the proposal outline and cross-check the requirements of the professor. If you follow this approach, you are more likely to make fewer mistakes and even predict the outcome of your work in advance.
Step 4: Demonstrate the Literature Review
In this chapter, you have to demonstrate the fundamental and technical review of the literature and other sources of the data you have gathered using your research skills. It exhibits your efforts on how well you have connected the research with your previous academic studies. It also portrays how you have used research methods to find the relevant data. You should put the research description and its framework into the literature review chapter while writing the dissertation proposal.
Step 5: Include Constraints of Your Research
The dissertation proposal must include constraints of the research that you have conducted to extract the data related to the topic. You should know that the proposal has many topics in which you have to present all the arguments that help you answer all the questions and come up with an effective solution. It can be done by using constraints of research. When you do so, it shows your understanding and helps in acknowledging all the broader issues of the dissertation.
These are the five easy steps that you should follow to write a compelling dissertation proposal. If you follow these steps in sequence, you are more likely to impress your professor with its structure and presentation. After going through the steps, if you still have any doubts in your head, consider seeking dissertation proposal writing help from professional writers of Instant Assignment Help at any hour of the day.

You May Also Like to Read: 20 Thrilling Biology Dissertation Topics Covering Its Different Branches
Why Must You Consider Our Writers to Seek Dissertation Writing Help?
Almost every student who receives the task of writing a dissertation proposal, search for someone who can help them with every difficulty that they face while completing the task. Instant Assignment Help is the one that can help you in writing your proposal and make your document look presentable in front of the professor.
Reasons why you must consider our writers for dissertation proposal help request are as follows.
We have highly qualified writers who can deliver the most authentic and best dissertation proposal.
Instant Assignment Help offers the best editing and proofreading service that ensures zero error in your proposal. It is because we know how important it is to get approval from the dissertation committee to initiate your final draft.
We also provide unlimited free revisions to satisfy your expectations accordingly.
Along with all this, you will also get numerous jaw-dropping offers that are apparently helpful in saving some of your precious bucks.
We provide 24*7 customer support to answer all your queries instantly.
After knowing such benefits, what else are you looking for? Place your dissertation proposal request now, and get the required approval from the dissertation committee asap.